SEO is dead.
Long live SEO!
How to dominate search engines by ignoring "SEO" and focusing on smart marketing that never goes of style.
It's interesting how the "SEO Experts" have convinced small business owners that search engines are some scary, mystical blackbox, when in reality the Internet's just a bunch of people linking to each other, and Google's trying to assess your street cred, to provide their visitors with the best search results possible.
They do this by assessing (and ranking) how often people are talking about you, and whether those people have any street cred/clout themselves.
So when people search 'Montreal SEO Experts' on whichever search engine they're using, what they're really saying is, "we need help understanding why search engines aren't valuing our content and rewarding our business."
Google is taking their search term, looking at the available options, determining who is indeed an expert at positioning websites in front of the people that want them, and at the exact moment they want them.
And that's where we come in 😃.
---
"Ok, but how do I dominate Google and make all the money?!" 💸
The good news is: it's not rocket science. The bad news is, there's a ton of social signals that Google uses to rank your website amongst your competitors, and it takes a heck of a lot of work to get there.
But before we get too far into the subject of SEO, and how to market your website for search engines, let's clear up some stuff…
There's the first distinction: we're here to help you, not provide some wishy washy black hat/white hat behind-the-scenes dorky bullshit.
We're here to cut away the fat, get you aimed in the right direction, and then work our asses off to get your business out there and in front of more eyeballs, at the right moment (more on this "at the right moment" part later). So going back to what I was saying…
It's not rocket science, it's work. If you can forget search engines for a minute and just think about Google's business goal.
"To organize the world's information and make it universally accessible and useful."
Focus on those two words: Accessible. Useful.
So what makes content useful?
---
How to produce useful content that search engines and potential customers gobble up like a crackhead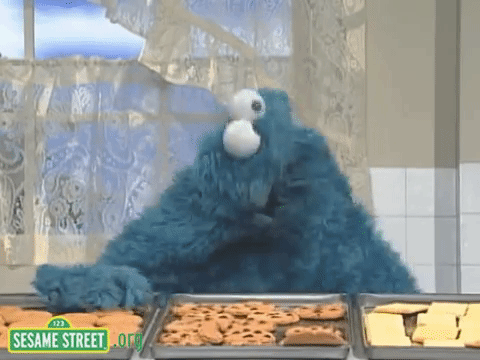 The truth is, Google wants to put you in front of your potential buyers.
The hitch is, you're responsible for producing that content that fits your potential customer's search intent.
If you want to produce content that search engines gobble up in a frenzy like the Cookie Monster stumbling across a jar of your grandma's freshest chocolate chip creations, you'll need to understand where that person is at in the buying process.
---
Good online marketing puts you in front of the right people, at the right time
The key to producing content for the right people at the right moment, is to understand the content marketing funnel. To do that is to understand the various stages people go through when looking to buy something online.
Part of that is to answer their search intent; to answer, "what's the deeper need?"
For example, when you're searching for an SEO agency in Montreal, we're asking… what's their deeper need? You're probably looking for ways to attract more visitors to your website, and turn them into customers, to increase online sales, to grow your email list, or something along those lines. You don't care about SEO, you just know a good SEO agency can get you there.
As an example, take a look at what Google shows when you search 'whats the best smart phone', you'll notice the top results aren't Apple's iPhone, or Google's Android page. Why? Because the searcher's intent is not to buy a phone. Instead, they're showing lists of 'the best smart phones', for you to read about, compare, learn more, and get a better understanding of the current industry landscape.
---
How to show up in search engines in front of the right person, at the right moment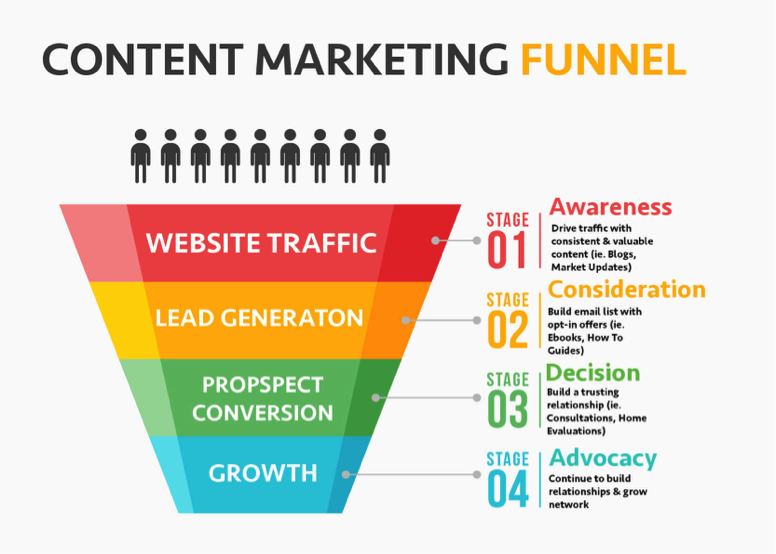 To understand how to get yourself in front of the right people at the right time, you'll need to understand the content marketing marketing funnel, which has four distinct stages:
Awareness: Your potential customers are learning about your industry, your company, and – potentially – your product. At this stage, it's common that the visitors isn't even aware they have a problem, yet.

To get in front of potential buyers at this stage your content will be loosely related to your industry or product
There's no pitch, at this stage. You don't need to show them a product page and will likely miss your mark if you do
These people are not looking to buy (remember the search intent!)

Consideration: Your potential customers are aware of the problem, and of the various potential solutions, but haven't chosen one yet. This is fertile land for marketers to activate the visitor into a lead or prospect, and you're only one step from a decision to purchase decision.

This is your chance to put your best foot forward, and show the prospect why you're the right tool for the job
Often, this goal of stage is to get the user onto an email list, or onto a remarketing list
It's important to not get cookie cutter, here. The user is looking to learn the advantages and disadvantages of each stage
Be honest! This is the hardest part for businesses… why? I do not know. They'd never lie to a customer who walks into their storefront, but when it comes to a blog post they have a hard time telling people when they're not the right tool for the job

Decision: Your potential customer is aware of the problem, and has done enough research to make a decision.

At the previous stage we ushered the prospective buyer into a private/silo'd marketing funnel, out of reach of the grasps of modern search engines
Since they're no longer your average, every day visitor, we're able to make an offer they can't refuse because
Make yourself stand out: Give them an opportunity to choose you over the competition
Often you'll offer a coupon, or give them a discount, pr do a 2-for-1 deal. Whatever it is: make it happen. Get scrappy, and get hungry!

Advocacy: Finally! You 'potential customer' has transitioned into the highly-coveted 'customer'

The goal here is to get them talking about you, and recommending you to others
Give them an opportunity to tell people how great your product is
Sometimes this is promoting a hashtag for them to post on social media to, other times you'll want to offer a discount on future purposes, or a discount for friends. Other times yet you might asked for a review Google Places
Want to be our next amazing client?
Great – We'd love to have you along for the ride!
To get started, we'd first set up a consultation call to hear from you about what you're looking for support on, and learn more about your business.