Whether you're a fledgling business who isn't ready to hire an SEO agency, or you're a social media manager, tasked with increasing organic website traffic for your employer, there's a huge opportunity for small business to get their content marketing in order.
Do Your Own SEO In-House: "I Want To Dominate Search Engines… Where To Do I Start?"
If you're just dipping your feet in and don't know where to start. This article is a crash course that covers the high-leverage items that really move the needle on getting your site ranked on search engines around the web (Remember, there's more than Google! Don't forget DuckDuckGo, Bing, Reddit, etc. not to mention the world's second largest search engine… YouTube!)
Let's get down to the nuts and bolts of it. Today we're working with WordPress. If you're on Squarespace, Shopify, Drupal, Magento, Joomla, or other CMS, the information you find here is no less potent, but won't be a click-for-click walk through.
What You Need To Rank #1 On Google: A Barebones Approach to SEO
This is the question, isn't it? What is needed to rank on Google. The good news is both nothing and everything. The easiest way to answer the question on the bare necessities of SEO is less technical than it is theoretical.
To rank #1 on Google, all you need to be is the best resource on the Internet at providing the very information which the searcher is currently looking for.
Each Google search includes a human in need of information, and a list of results which Google has tried to match to that search in order to give them the information they're looking for.
Okay, that's easy enough to understand – but I still haven't answered your question… what do you need to rank?
The Pillars Of SEO: How To Build Strong Ranking Signals, Forcing Google to Love You ❤️
Your job as an SEO is to traverse the treacherous path of taking that theoretical information, and implementing it appropriately on the technical side of things.
In trying to give you a crash course, it's safe to say the following are must-have's in modern SEO:
Create great content
Have a mobile-friendly (or mobile-first) website
Optimize meta information on each page, including images and assets
Encrypt website visits over SSL (https)
Present a fast, efficient, intuitive website for a great 'User Experience'
Intentional internal linking, and heard-earned backlinks
---
Great Content means great content built from keyword research
The key to dominating a Google search results page is creating great content that people are searching for. Great content is easy to create: take your time, be thorough, be complete, leave no stone unturned, and you'll be fine.

So then the question becomes…
How do you make sure you're creating content that people are searching for?

– You
By working backwards; focus on building content that people are actually searching for! This is where keyword research comes in.
A lot has been written on keyword research and it's not exactly the hardest concept to grasp so I'll point you towards some good resources to learn about it and let you go off and do your own damn research.
---
If you're not focusing on mobile-friendly and responsive design, you're late
Your website has to be Mobile-Friendly: Mobile has been overtaking a lot of people's traffic. Check your Analytics software and see what percentage of your visitors are on mobile.
If it's over 50% – Make sure you're serving a mobile-first website, where you've optimized for mobile, and desktop secondarily.
If it's under 50% – Make sure you're serving a desktop-first website, where you've optimized for desktop, and mobile secondarily.
Keep in mind as the future becomes the present, you're going to see a lot more mobile and wearable tech, so mobile will continue to increase. Make sure your site is loading lightning fast and looks great on mobile, no matter what.
---
Optimize 'On-Page' meta information for each page, including images and assets
Often referred to as 'on-page optimization', this is an area that can consume you when you first start getting into SEO.
Since it's all under your control, there will always be opportunities to improve your site/on-page. Don't chase the shiny object! Do a check, do a fix, focus on the low hanging fruit, cover your basics, and let Google marinate on it for six months. Come back in a year: Do a check, do a fix, focus on the low hanging fruit, cover your basics again, etc.
Here's how to cover the basics:
1. Use SEO-friendly URLs: If you're on WordPress this is already handled through their permalinks. Before you publish any post or page, manually edit the permalink to be concise, while also containing most/some of your keywords. I prefer shorter URLs and work to keep mine short & concise. So instead of a permalink like:
http://example.com/how-to-start-a-baking-busines-from-your-home-kitchen I might opt for: http://example.com/start-home-baking-business. It's not quite as juicy for search engines by today's standards but is much friendlier for the user, who Google's ultimately looking to serve, so I think it future proofs you a little bit.
Pro Tip: If you're changing a URL, make sure you setup a 301 redirect from your old URL to the new one.
2. Get your keyword into the Page/Post Title (preferably near the start): Your title is the most important piece of the pie. It's the first thing the user sees, it's what they read when deciding to click, it's the first thing Google looks at to determine what the user can expect when they land on your page, etc. etc. You want to include the keyword while also focusing on the user. Tell them exactly what they'll get when they read the article.
3. Consider adding modifiers to your title and content: This is taking a keyword like 'baseball pitching practice' and adding modifiers to the start and end to make it more accessible to larger search terms. 'how to improve your baseball pitching practice in the off season' covers the same keywords, but also catches people looking specifically for the off-season, and catches people searching specifically with the word 'improve' – you can bet they'd rather click to an article that uses Improve in the title as well!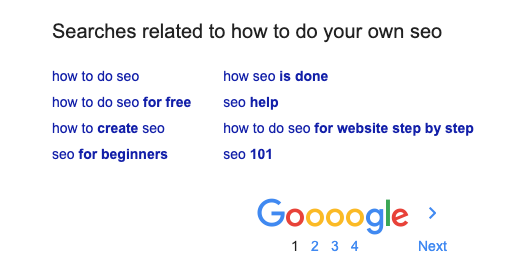 Latent Semantic Indexing (LSI) is Google's way of grouping synonyms together. You can find them everywhere; often in 'related searches' boxes on websites. Amazon's got one (if you have an Amazon store), eBay's got one, etc.
To find some LSI/modifier ideas on Google, just search your keyword, then scroll down to the bottom of the page, and use that box to see what else people care about on the subject. There is an opportunity to include 1- or 2-words that allow you to rank for more keywords with the same article. (Sometimes you just need to add a few paragraphs to adapt your article to also cover a modifier keyword. Often it's worth it)
4. Focus on clean, distinguished site structure: Understanding the basics of content-focused HTML tags goes a long way but here's an easy one. <h1> through <h6> are six tags for headings (get it? <h1> = heading 1, <h2> = heading 2) and they relate to a hierarchy of subtitles. Typically, a page should only have a single <h1>. Make this your page title, have a keyword in there, don't have multiple <h1>'s.
Break your content into sub headings (<h2>'s), which gives Google more to bite into, and makes your article easier to read, skim, etc. Anything that's a sub-title to a subtitle (<h2>) becomes an <h3>.
Break up huge paragraphs into smaller chunks. 2-5 sentences is plenty. User bullet lists. Break stuff down. Embrace scrolling. Think about ways to make your content faster to get through, and less intimidating to read.
5. Use media to make your pages more entertaining: Adding images, video, and screenshots do wonders to the value of your content, and give you another chance to plug your keywords and their surrounding lingo into the images alt and title attributes. They help reduce bounce rate and increase time on site which are ranking factors and, frankly, just make your content better.
6. Try to fit your keyword into the first paragraph: This is more just to ensure your article focuses on the keyword you're trying to rank for. There's always a ton of fluff at the start of a rough draft blog post.
Cut the first 30%. Edit & pare it back so that you have a hard hitting first sentence and a hard hitting first paragraph, with entity and synonymous keyword rich content.
7. Use Internal & Outbound Links: SEOs and Marketers can get caught up in the whole 'natural link profile' debate – both internally and externally – debating what constitutes a natural link.
To avoid over-thinking it, just keep in mind that you want to setup internal links (links from your pages/posts to other pages/posts on your site) to other pages on your site in spread your roots. SEOs call this 'link juice' and the concept is, that popular content will lift up less popular content.
Don't be afraid to link out to other websites when it makes sense. People who are just getting started in SEO are hyper sensitive about sending traffic off-site. Don't be; the internet works by passing traffic around. You can always have external links open in a new window/tab.
I like linking out to Wikipedia articles when it makes sense, since they're typically a definitive source for giving backstories and context. This type of linking helps search engines understand the context of your article.
8. Set meta data for all images: To be valid HTML, all images must have 'alt' attributes which stands for 'alternative' and that value should be there in place of the image for screen-readers (for visually impaired people).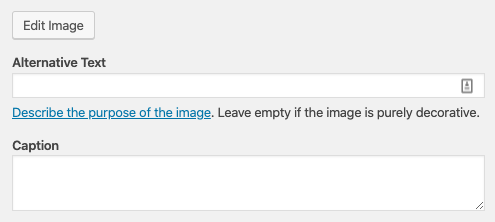 Beyond that, alt tags are great for SEO, and search engines love them. WordPress makes it easy to go in and edit those alt tags. Once edited, they typically work across the site, so there are usually some easy wins here.
Don't leave these blank, go the extra mile and make sure these are filled out for all images on your blog and you'll likely see a difference in your rankings off that alone.
---
Get an SSL Certificate, and force your website to use 'https' over 'http'
Encryption's a good thing, visitors want it, and large consumer tech brands like Google, Facebook, Apple, are all pushing for end-to-end encryption wherever possible.
With that in mind, it should be inherently obvious that this preference would extend to the websites Google prefers to show in search results.
Get yourself an SSL certificate (most reputable hosting companies offer SSL certificates for free via LetsEncrypt. Check whether yours does, enable it, and get your website onto it – don't forget to update your analytics, etc.)
---
Give your users the most efficient experience possible
Known as UX within the industry (that's User eXperience), modern technology has put a focus on simple interfaces with less clutter… punchy, to-the-point information, and simple navigations, etc.
While UX is an enormous topic – much larger than this blog post could ever hope to cover – it's worth keeping in mind as you surf your website, and as you see others interacting with your website. Always be asking yourself questions like:
How could this be easier?
Could this be built to need fewer clicks?
Does it make sense to have other (or more) information on this page?
By eliminating situations where your user needs to type in their named & address twice in a row, you will see an instant increase in how many people are making it through the process.
The same can be applied when it takes 3-clicks to get to one of the most popular pages on your website. Find a way to make it accessible with a single-click and watch traffic to that page soar!
---
Page Speed
Page speed can't be under-stated in modern SEO. Since 40% of users will abandon a webpage if it takes more than 3 seconds to load, it's important to get your site loading ultra-fast.
This means:
Avoid page builders where possible. Gutenberg is great, but beyond that I'd rank the various page builders as such: (1) Elemenator, (2) Beaver Builder, (3) Divi, (4) Visual Composer, then maybe (5) Thrive Builder. All in all, these tend to slow sites down.
A good caching plugin is necessary. There are some awesome free caching plugins like W3 Total Cache or WP Super Cache. We use WP Rocket in house (and as a value-added bonus to all of our clients)
Consider moving your static files to a CDN. A CDN server is a remote server that's been configured to be lightning fast for static content delivery (like css, javascript, and especially images). A reputable (free) option is CloudFlare.
---
Internal Linking & Backlinks
I went over internal linking above, but to recap:
Don't overthink it
DON'T OVERTHINK IT!
Link from your articles to other pages and posts on your site where it makes sense. Build your site as an interconnecting mesh of mycelium over the long term; for now, link where it makes sense and move on.
---
Give social shares a thumbnail and tagline: Use a plugin to serve meta descriptions, OpenGraph, and Twitter data for sharing
Make the most of hard-earned shares by showing a snappy headline, an enticing description that tells them to click to find out more, and an attractive thumbnail that makes them want to read more.
You do this by adding Open Graph data, to your posts.
To get started, pick any number of SEO plugins. We still use Yoast's WordPress SEO, because it's free and handles all the basics, but feel free to go your own route.
Don't take these plugins traffic light/traffic signal interface too seriously, but their suggestions (at least on the surface) have merit. Yes, you want to include your keyword in the title, in the description, in the OpenGraph title and description, in the alt tags, in the content using its relevant modifiers, etc., etc., etc., but don't take some percentage as a holy number.
Focus on the human, don't stuff your keywords for the sake of keyword stuffing. Don't link out for the sake of linking out. Don't interlink for the sake of interlinking.
Think about the person behind that screen. What makes the most sense for them? They are who you are serving, they are also who Google is serving so whenever you're at odds – making a decision between doing something for Google, or something for readers – always lean to the side of the human… because at the end of the day, Google wants that, too!
---
A Dead Simple Approach To In-House Content Marketing For The Small Business
When growing your business online through organic search, you have to stop making the content you want to make, and to start making content at people are actually searching for.
Do your keyword research, find out what people are searching for, find where there are gaps in the market and fill them with various content types.
How to identify the content types available to me and which ones should I be using to rank in search engines?
There are always new content types hitting the internet, and people are constantly evolving and in new ways but the ones that have stuck around for the last few years are:
Client case studies
Expert roundups
Infographics
Other content that highlights influencers
Industry surveys
Free content or tools
Find ways to write content that answers headspace that your visitor searcher was looking for, using the keywords people are searching for.
How To Approach Blog Content and Content Generation: A Birds-Eye View
When it comes down to it, all content can – and I'd argue should – revolve around a similar workflow.
Content ideas comes from keyword research, and are focused at an existing audience. By working your content calendar around real world data and generating content ideas based on the keyword research you're doing.
A content outline is drafted. A handful of synonymous terms are picked, and a basic skeleton for the content is created and approved.
Write your first draft.
Edit your draft. Make sure this thing's ready to go. Fix spelling and grammar mistakes, add imagery, etc.
Write a cracking headline. Research has shown again and again that of every 10 people who read a headline, only 2 will read the next sentence… you have to make an impact on your headline.
Hit publish. Don't get frozen with paralysis. Done is better than perfect. One day never comes. Focus on the bigger picture. Hit publish.
Steal this content generation Standard Operating Procedure Template from an SEO agency generating content at scale
Step 1: Pick a target keyword with an existing audience by working your content calendar around real world data and generating content ideas based on the keyword research you're doing.
Step 2: Run a report in Clearscope on the keyword. This will give you a ton of information on your keyword, and spit out relevant keywords, synonymous keywords, synonymous entities, key phrases, etc.
Step 3: Create an outline based on Clearscope's relevant terms list. Focus on breaking the content down into its main concepts, and write out the headlines in a hierarchical manner.
Step 4: Do good research (eg. interviewing experts, finding solid supporting data, reading about the subject matter). This allows you to write effortlessly when it comes time to write a Draft because you've done all the heavy lifting in understanding your topic.
Step 5: Write the first draft. Before going back and doing any major edits, try to just get through writing the entire thing out, then tidying bits & pieces up after.
Step 6: Put your first draft back into Clearscope to ensure you've covered all your relevant terms and topics. If anything's missing, go back in and massage things into place. This is not the time for keyword stuffing, but you do want to make sure you're using keywords and synonyms that show people (and search engines) know you know what the heck you're talking about.
Step 7: Insert the completed draft into Grammarly or Hemingway, and manually edit until the article 'sings'. Grammar tools will really smooth out your writing, tidy up any glaring issues, and make your content easier and more enjoyable to read in general. * This is something we don't do in-house but should look into as it seems like a brilliant idea.
Step 8: Write a keyword-optimized, engaging, and honest heading for your article. Out of every ten people who read your headline, only two will read the next sentence – a persuasive headline that makes you want to click is worth its weight in gold. Spend some time and make your headline amazing!
Step 9: Fine tune your title tag, URL, meta description, featured image, and open graph data (social share description and image). Shares are rare, make them count! When people share your content, these things make sure the viewers of said shared article are presented with an enticing call to action and a lively picture or photo that further entices them to click.
Step 10: Hit 'Publish'! Always remember: 'Done is better than perfect'
Step 11: Share it on all your Social Media accounts. Double up. Triple up. Whatever you can to make sure the sucker gets viewed. On Twitter we'll typically look to tweet out 2-4 times a day for an entire week. People check their social media at different times of the day and week, so don't worry too much about flooding someone's timeline. Schedule those posts out, and then a few more a few months from now, so that you're making your content work for you and your business.
---
Armed with a quick & dirty content marketing campaign – use what you know and take over the world! 🌎
And there you have it – a quick and dirty run down of how to run a content marketing campaign as a small business without a large budget.
Content generation is a big – big! – piece of the puzzle, and getting content out using the above methods every month on a consistent basis will do wonders for your business, but always remember that gaining backlinks is as important – if not more – so once you've hit publish, your journey has just begun.
Think about it…
If you don't spend time promoting that content like a crazy person, all that time invested in researching the topic, and writing the content will be lost.
Honour your amazing content by building links back to it, and search engines will reward you handsomely.
And now I'll turn it to you, the reader…
Did any of this help you?
What part had an impact on you?