"What are the best free online marketing tools you're using today?"
At first it seemed like an easy answer… but then it changed.
"Google. No… SEM Rush! Err… No! Ahrefs!"
The more I thought about it… while I know the tools we use here at the office, I had assumed most SEO's and online marketers used the same or similar software that we did.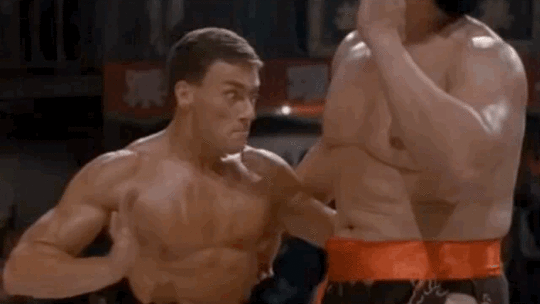 It landed like a punch in my stomach…
Instead of the same ten or fifteen online marketing tools that we used, I got a giant list of different tools, apps, and chrome extensions!
This post turned into a monster, not because there was 1 or 2 tools that everyone was using, but because every search marketing/SEO agency seems to use different tools, and there are a lot of great FREE tools in the online marketing industry right now.
Without further ado, here are the best free online marketing tools on the market, plus my painstakingly researched descriptions of what each tool does, plus a bunch more tools linked and great marketing advice… for your viewing pleasure…
Keywords Everywhere is a great chrome plugin that does what it says: It uncovers Keywords… Everywhere.
If you have a technical role in an SEO campaign, then you'll know powerful Keyword data when you see it. Keywords Everywhere is a spectacular little Chrome (or Firefox) extension that gives you data from a ton of sources. In short, you feed in keywords and it spits back search volume. Here it is in plain words off their site:
"Bulk Upload 10,000+ Keywords And Get Their Search Volume, CPC & Competition Data."
Currently it can pull data from:
Google.com – the data is shown right under the search textbox
Google Search Console – the data is shown in the Search Analytics page
Google Analytics – data shown in the Organic and Search Engine Optimization -> Queries pages
Google Trends – data shown in the queries widget
Google Keyword Planner – data shown in a new column
Google Search – data shown under main keyword as well as related searches
YouTube – data shown under the search box
Amazon – data shown under the search box
eBay – data shown under the search box
Etsy – data shown under the search box
UberSuggest – data shown alongside keywords in this awesome keyword suggestion tool
AnswerThePublic.com – data shown in popup on each spoke of the wheel, data also shown in the alphabetic listings
Soovle.com – data shown next to each keyword all over the page
KeywordSheeter.com – data shown under the main text area next to keywords
Majestic – Anchor Text Report
Moz Open Site Explorer – Anchor Text Report
* Half of those tools are included in this post, so if you're looking for more information on what each provides, start scrolling. 
The unique and beautiful part about Keywords Everywhere is bringing them all under one umbrella. While you may not need keywords from all these places, all the time, it's nice to leave no stone unturned when looking for new keyword opportunities.
Pro Tip: Even if you don't use this browser extension, you can use the list of sites they pull keywords from to do your own manual keyword research. This idea of "unscalable" keyword research based off of existing automated tools is a goldmine for marketers! 💵💸
Yoast SEO is the best WordPress plugin for on-page search engine optimization
We've already covered the Yoast SEO plugin in depth in another blog post, so you know we had to include it on the list.
WordPress is the wildly successful open-source software for managing websites (and web-apps!), and it works on plugins. Plugins for everything. Anything you want in a website, exists as a plugin.
When it comes to 'on page SEO', or the stuff you can do on your website to better your search rankings, Yoast's SEO plugin has you covered. I still believe it's the best plugin around for search engine optimization.. The key is to use it properly. If you're new to the plugin, definitely check out our guide.
Use Traffic Travis to stay on top of technical SEO and competitor SEO campaigns
This tool claims to "improve your website's search engine rankings" which, as a headline, needs work… But when you dig into the tool, you can see why people are using the free version of Traffic Travis. This tool gives runs a 'SEO health check' which gives a nice look at technical on-page SEO across your site. Print off your domain or your client's domain, and one of your/their competitor's domain's reports and do a direct comparison.
Also good for uncovering competitor keywords, and backlink opportunities. This is basic stuff but it's a nice tool, and easy to screenshot/paste into your monthly reports to bosses/clients so for the price tag, it's a good tool.
Screaming Frog's free version is an online marketer's swiss army knife for spidering and scraping both pages and entire domains
Screaming Frog has been in the modern search engine marketer's toolbox for many, many years. Screaming Frog spiders your website top-to-bottom, trying to uncover as many URL's as it can.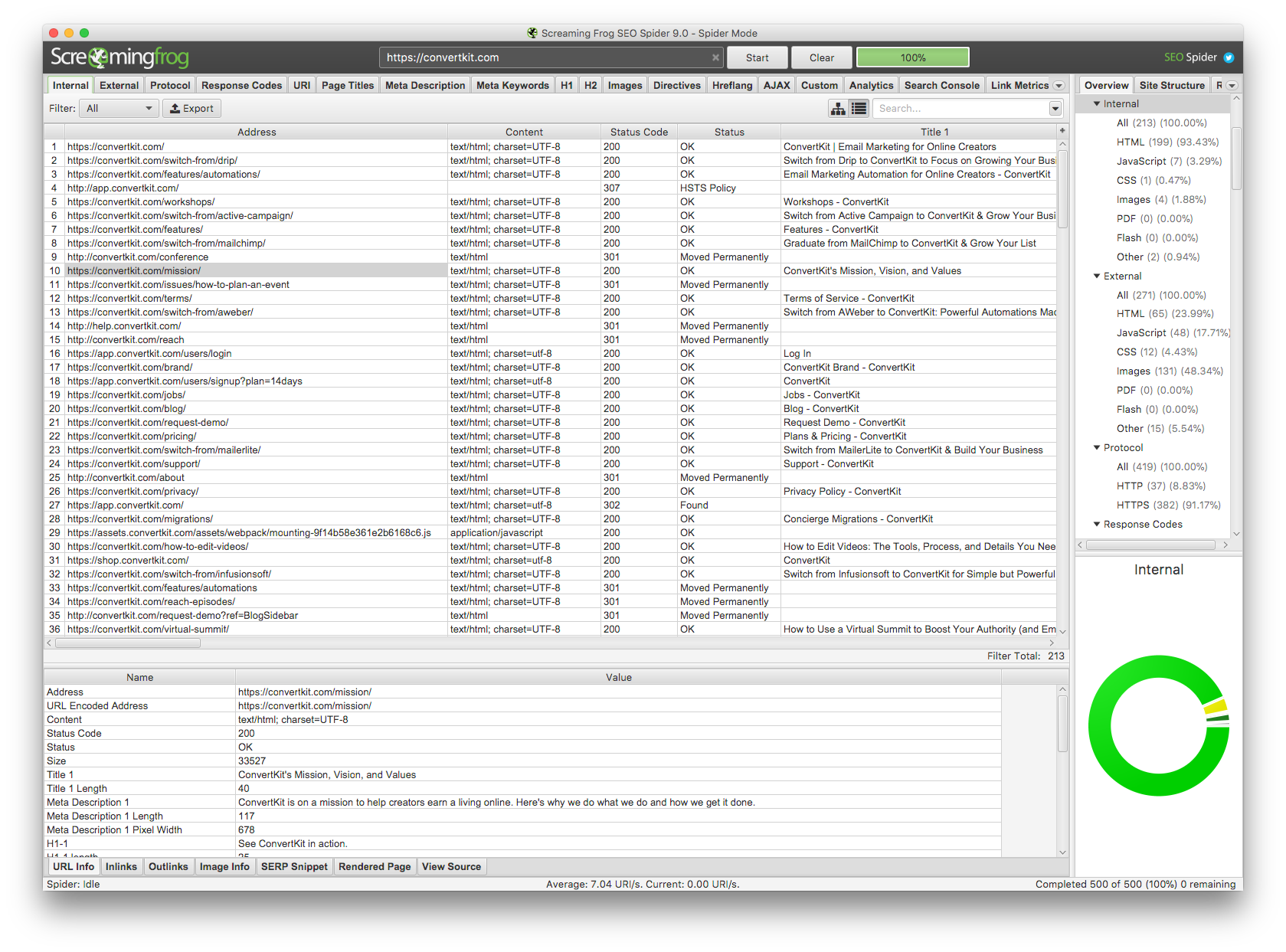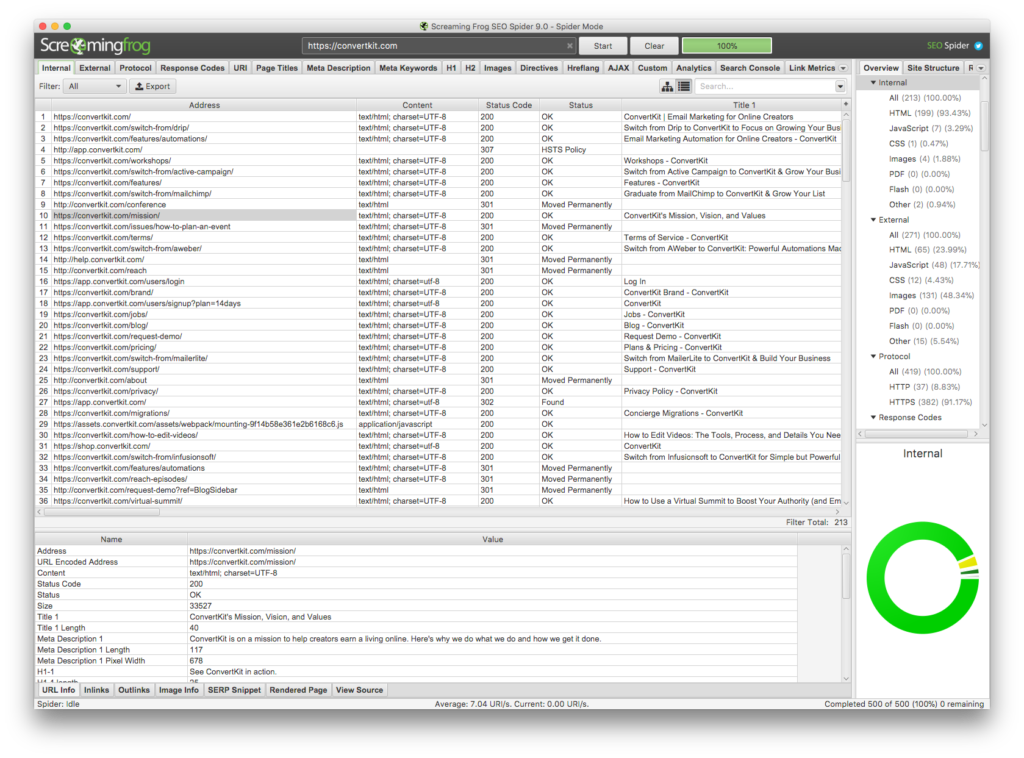 It's worth its weight in gold and you will get a ton of value from it. Don't take my word for it… many, many, many other SEO professionals would agree you'll likely soon purchase the paid version.
We use it for a million tasks, but basically you can turn to it for most data mining. Here are some of the stuff we find ourselves turning to Screaming Frog for:
Crawling your entire site, or a single directory, set of directories, or sub-domain(s)
Finding a list of domains that your client is currently redirecting to their main site
Crawling an e-commerce site or other large site
Crawling a site hosted on an older server
Crawling a site that requires cookies
Determining which pages require authentication
Finding broken internal links on a page or site
Finding broken outbound links on a page or site (or all outbound links in general)
Finding links that are being redirected
Finding internal linking opportunities
Identifying pages with thin or weak content
Listing image links on a particular page
Finding images that are missing or lengthy alt attributes
Finding all CSS, JavaScript, Images or any other file type
Identifying jQuery plugins used on the site and what pages they are being used on.
Finding where flash is being used and embedded (hint: this should most likely be zero!)
Finding any internal PDFs that are linked on-site
Understanding internal content relationships
Finding pages with social sharing buttons
Finding pages with iFrames
Finding pages with embedded audio/video content
Identifying lengthy page titles, meta tags, and URLs
Finding duplicate content in page titles, and meta tags
Highlighting URLs that need to be rewritten/redirected/canonicalized
Identify pages with meta directives (ie. nofollow, noindex, noodp, canonical etc.)
Verifying your robots.txt file is functioning as desired
Finding and verifying Schema markup or other micro-/meta-data
Creating, verifying, and checking XML Sitemaps (although most modern CMS's build these for you)
Identifying areas of your site which aren't being indexed
Testing site migrations and redesigns rapidly
Finding slow loading pages
Finding malware
Verifying your Google Analytics is on every page, and/or any specific set of pages
Validating pay per click (PPC) URLs en masse/in bulk
Finding and cleaning/removing URL parameters (query strings) from your crawled URLs
Rewriting crawled URLs (e.g: replace .com with .co.uk, or perhaps to re-write all lowercase URLs)
Competitor research! Know which pages your competitors value most, which meta content they're using, and their internal linking structure
Finding broken links for outreach opportunities is one of our favorite uses.
Verifying backlinks at a glance (ie. When getting new backlinks, or when cleaning up and verifying that links are being removed as requested)
I'm sure there's more but that's a quick list. It allows you to turn on proxies, is lightning fast, and has stood the test of time. Heck, they don't even have an affiliate program, so you know I'm not being paid to say this.
Screaming Frog is a spectacular SEO tool and should absolutely be in any online marketer's toolbox.
Keyword Sheeter dumps a load of long-tail keywords out for you to export in your keyword research
They weren't kidding when they named this tool a Keyword Sheeter. Put in a seed keyword or two, hit go and it start spitting keywords at you. Let it run for a while and hit stop, then download those keywords. This is another great long tail keyword finder and definitely a tool you want to run your seed keywords through when you're generating long tail keywords to include in your campaigns.
We use a paid version of Long Tail Pro in-house to do our keyword research but recently, Keyword Sheeter has been my go-to for getting a real quick idea.
The MozBar SEO Toolbar has been an SEO marketers toolbox staple for many, many years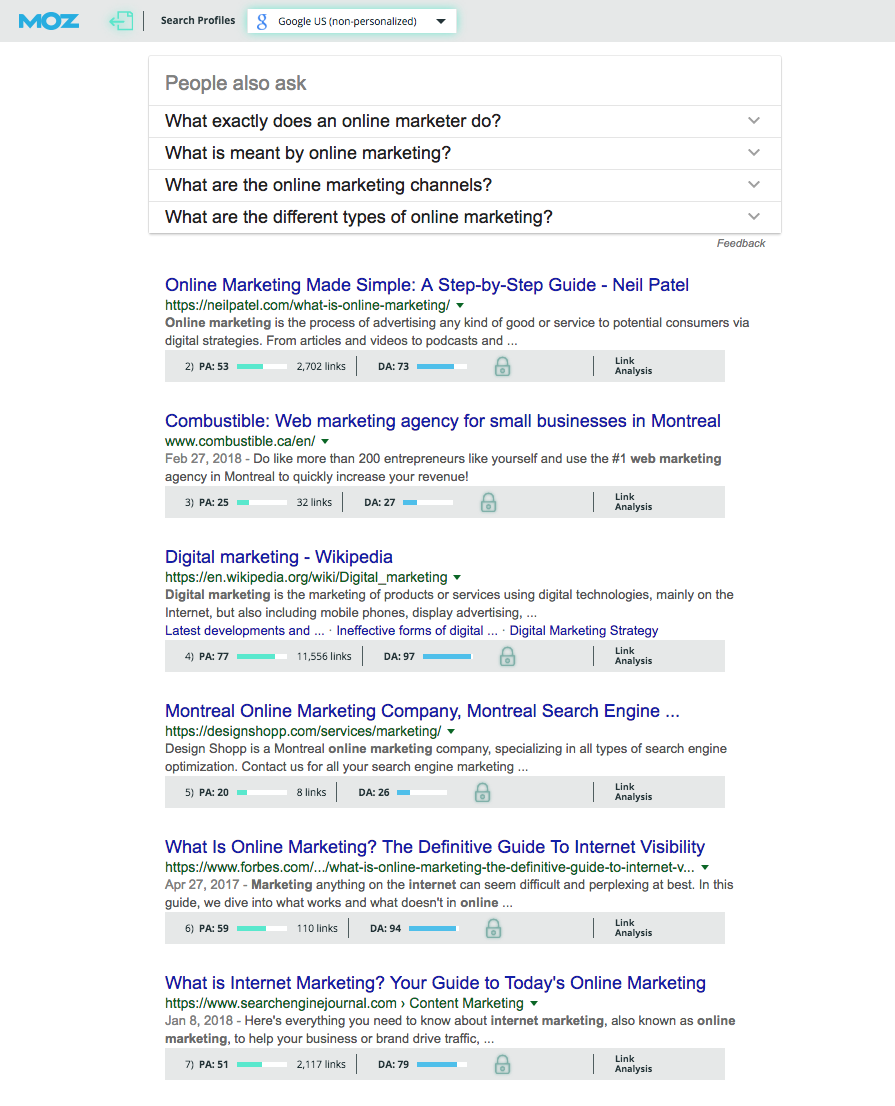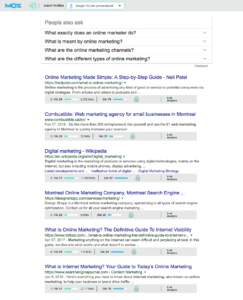 For the Moz SEO Toolbar (or the more badass name MozBar) you're going to need to sign up for a free community account, and install the Google Chrome extension. Once that's setup you're good to go, for less than a cent.
Moz (previously SEO Moz) in-house SEO toolbar, aptly called the MozBar is a toolbar with two main pieces:
A page specific tool to understand the strength/weight/gravity of the page
A google results add-on which gives page-by-page insights into the strength/weight/gravity of the search results
This tool comes in super handing when you're trawling through Google's search results to get an understanding of what it'll take to rank on Google for given search term. Not having to copy and paste URL's constantly is a huge timesaver.


In the single page view, you'll get the Domain Authority and Page Authority of that specific page. Once you've got a good idea of your competition, you'll be clicking into each result and digging into what's making them rank, and knowing the respective Domain & Page Authority is huge.
SEM Rush is our #1 pick for best free search marketing tools on the market right now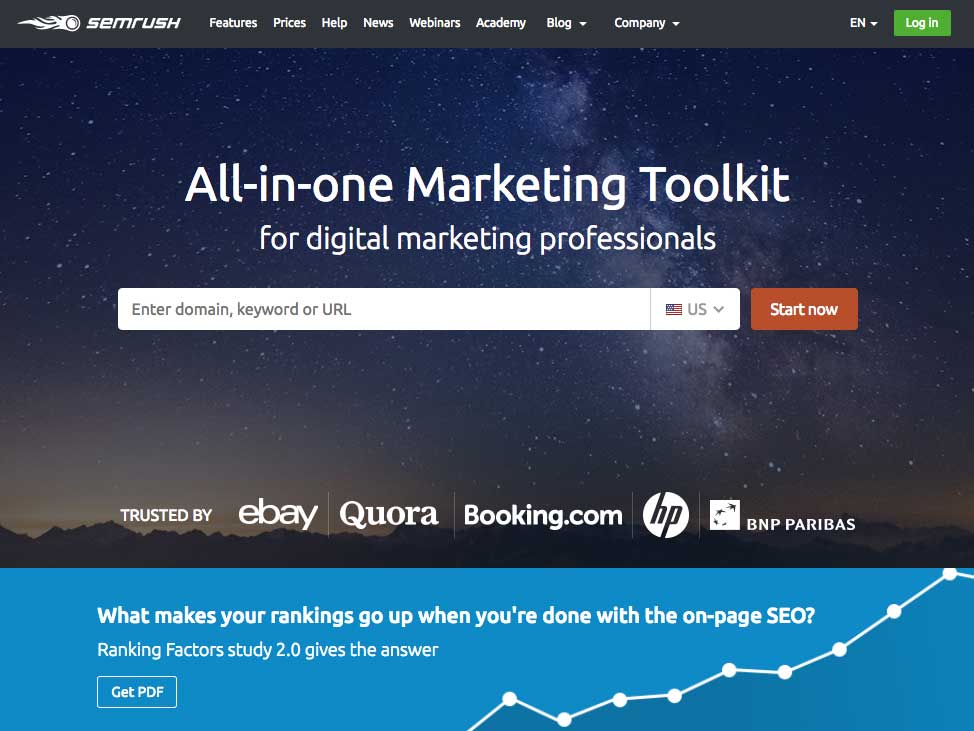 The free version is good enough to make the list, but if you're serious about your site's search engine optimization, SEO or you're interested in growing your traffic and sales through your website you really should use the paid version. This is the only tool I mentioned this on because SEM Rush is that good. Any of the other links will work, but if you want to support this site: this link has an affiliate code which gives us a small kick-back.
SEM Rush is one of the most powerful tools on the market, so whether you're interested in paying for a product or not, be sure to sign up and give it a shot. Use it to spy on competitors, look at ad data and history, plus track your keywords/rankings. Pretty standard stuff you'll need to be doing day-in day-out as an SEO so having the best tool on the market at your disposal pays itself off pretty quickly.
Kparser is an effective keyword research tool which can spit back thousands of keywords in no time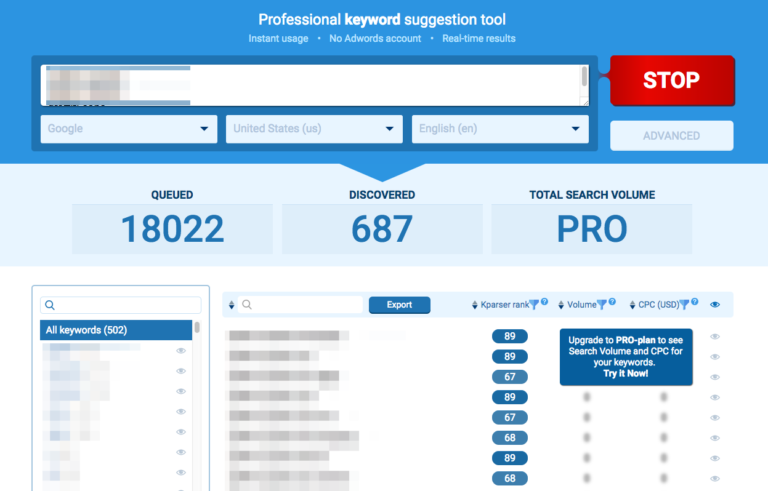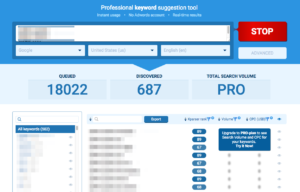 Anyone who's worked on an SEO campaign knows the importance of keyword research. and Kparser is a yet another keyword research tool… something you can never have enough of as an SEO.
Kparser has a pretty simple interface, and requires a (free) account to export 2,000 keywords. Take those keywords and throw them into the Google's Keyword Planner to get volume on these long tail keywords, group them together, and use them to target pages.
Site Checker Pro spits out a technical audit of an individual URL. Use it to clean up technical errors, quirks, and various on page issues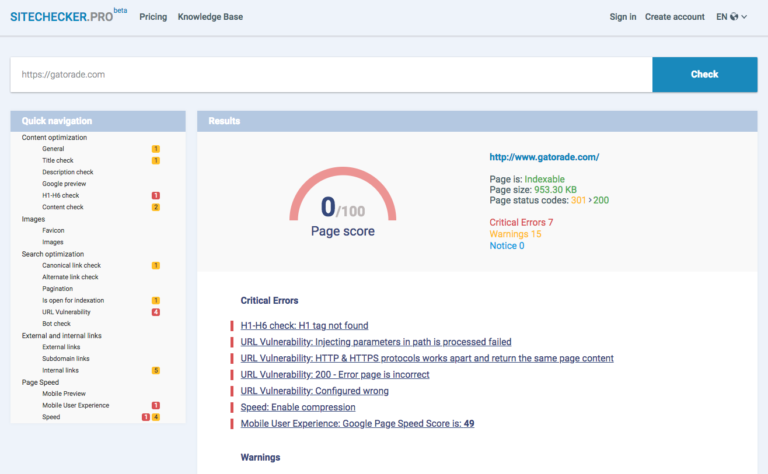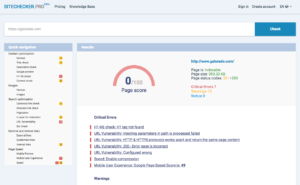 Site Checker Pro is a tool which checks your site for technical issues and on-page SEO best practices. There were some kinks to be worked out on the tests we ran but this is certainly worth running your url's through to check for urgent and outstanding issues
If we were to implement this into our processes, it would be at the URL-specific level, like a content piece, blog post, or important pages in order to smooth out any technical or on-page issues.
To address your website's performance and speed things up, GT Metrix is a great (at times brutal) tool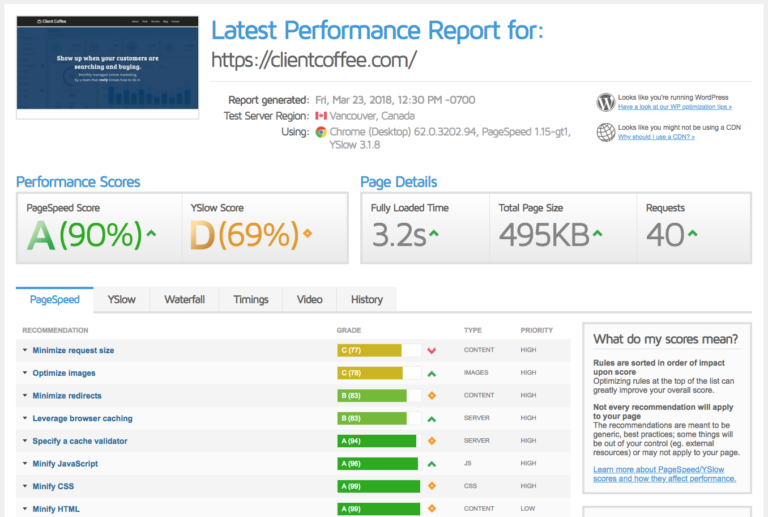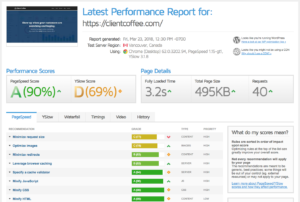 When testing your websites performance, GT Metrix is one of the industry standards, and is a tool that should be checked often during an SEO campaign (i.e. forever).
(as you can see in the screenshot we've got some improvements to make)
Put in your website URL, and click 'Analyze' to run a performance audit on your business. Take the results back to your web developer (preferably an agency with SEO experience) and have them fix issues that come up. Rinse and repeat until your site's passing all areas with flying colours, then set a reminder to come back and run another audit in three months, and another one for 6, 9, and 12 months from now.
If you're looking for a quick performance checkup, take a look at WebPageTest
When you're looking into your website's performance, WebPageTest is worth a look. It won't be winning any design awards (in fact it looks like it was designed during the 1990's dot com bubble), but it gives you a good overview of performance issues all around.
The main tab/pane of WebPageTest's performance audit rates your site's performance down into seven categories, and gives you a score out of 100 for each:
The time it takes to get to "first byte" (back-end processing)
Whether or not you're making requests over persistent connections (keep alive)
Whether you're using gzip compression to server assets
Whether your images have been optimized for web
Whether you're using progressive image sizes for each of the various screen sizes
Whether you're leveraging browser caching of static assets
Whether you're using a CDN for static assets
Definitely worth checking out if you're looking to improve your site's performance.
[box] Pro Tip: One of the most common performance issues we come across (the one business owners have enjoyed blissfully ignoring for years) is your hosting plan (or company). The easiest way to speed up your site (in some cases even more than a caching plugin like WP Rocket) is to ensure your hosted on a good server. If you're running an eCommerce store and not on a VPS, forget it. If you're on GoDaddy, forget it.[/box]
Better understand your visitor's behavior with a tool like Webvisor or Inspectlet
Webvisor is a product from the Russian-data company (yeah yeah… bring on the political jokes) Yandex. Webvisor records your visitors sessions and plays them back for you whenever you want. This insight is invaluable for better understanding your user interaction on your site.
We've used a tool like it, Inspectlet, in the past to solve problems in conversion rates, and discovering that perhaps users are confused by a design element (ie. they are clicking a small image or logo instead of the "submit" button)
Google. Seriously. You can get a firm grasp of where things are at for a search campaign just be clicking around
It's surprising how many people don't know how to use it: The GOAT of search.
With a bit of common sense, and a few Google searches you can quickly and easily assess a site's general standing in terms of authority and where it stands in comparison to competitors in the space.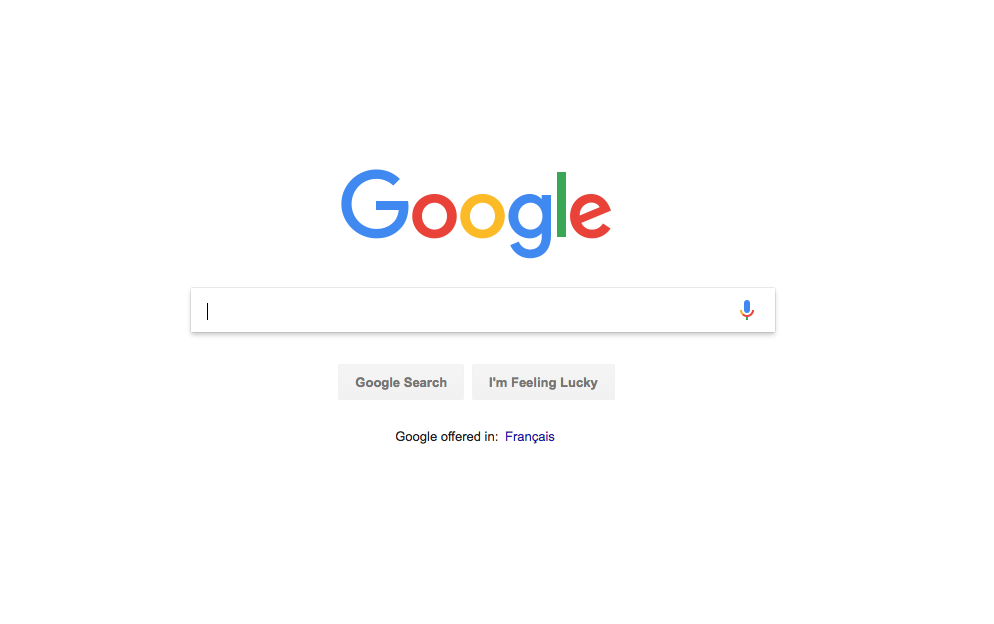 A lot of online marketers find themselves moving from no tools, to lots of tools, and then as they scale their time up, and need to get more done, they find themselves working on high-level metrics from a birds eye view, and Google shoots back to the forefront of of their toolset.
It's a natural fit, after all. Using Google's Search Console will grant you access behind the scenes and uncover the deepest darkest secrets and mistakes you're making with your website.
Checking Google's PageSpeed insights, mobile usability test, etc. are all valuable to look at from within the Google Search Console. Take a look at their advanced query and traffic breakdowns, to understand where your site is currently getting its traffic from, as well as where that traffic's landing on your site.
If not already in place, this is should be one of the first things an SEO or online marketer does when they take your website on as a client.
For those who do a lot of video, VidIQ might be your new favorite marketing tool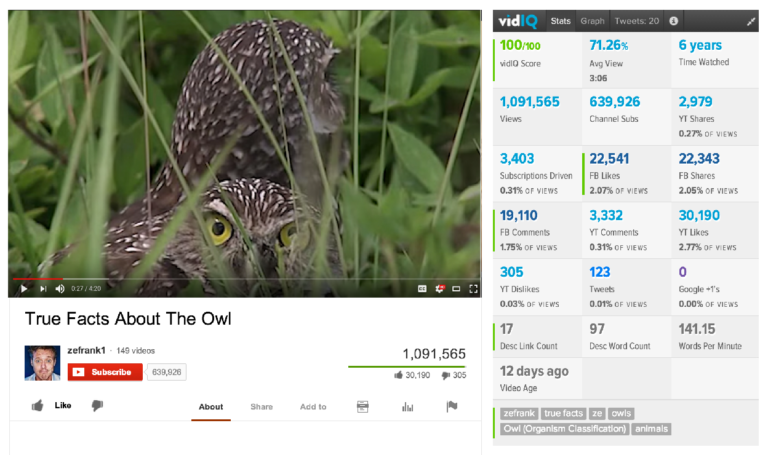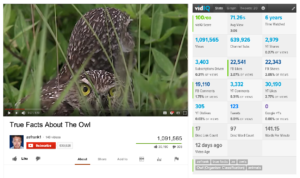 For small teams and individual publishers, and want to take your YouTube SEO campaigns beyond typical meta data optimizations (aiming videos at a specific keyword, then you should check out VidIQ.
VidIQ offers great video analytics to YouTube content creators/publishers, allowing you to see what your competition is doing, and copy their successes. The free Chrome Extension is a super handy tool, that gives you a ton of analytic data on any video on YouTube.
While we don't do a ton of video work, many people listed VidIQ to be one of (if not the) most powerful tool for YouTube SEO campaigns, and monitoring YouTube marketing campaigns.
LSI Graph is a great tool for giving search engines something to bite into when they're scanning your content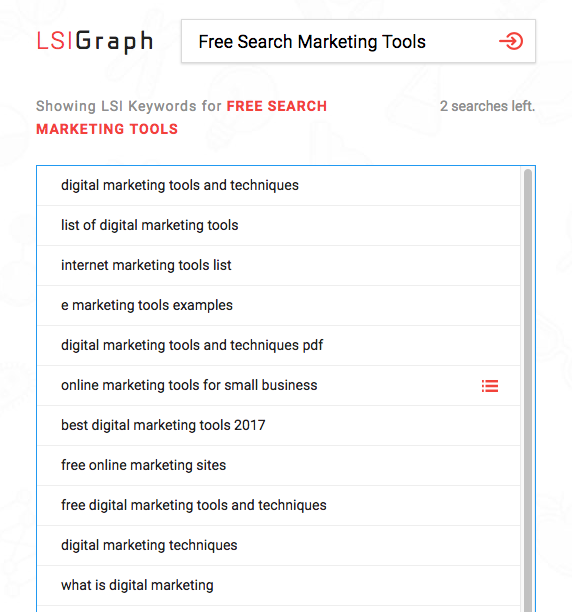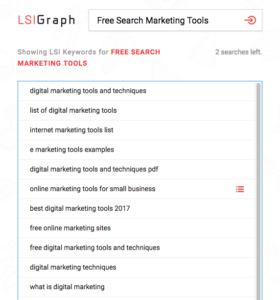 Here's a great tool for modern SEO which generates latent semantic indexing keywords, which – for those of you who are human – means they're uncovering contextually similar keywords surrounding content you're looking to rank for.
These contextually similar keywords are LSI Graph's best guess at what search engines wants to see mixed in with the keyword phrase you originally submitted keywords.
The goal of these contextually similar keywords are to:
Help Google to understand your content better
Differentiate your quality pages from those of weak, thin, or black hat content
Help Google better match your site with user intent. Remember, this is Google's business model, so use it to your advantage when ranking, growing, or writing content for websites.
Allow Google provides you better traffic quality by only sending highly relevant visitors
Helps writer's, content planners, and marketing managers avoiding repetitive keywords in their content
Ubersuggest is spectacular at grabbing a crapload of keywords
One of my personal favourite tools is Uber Suggest. It's recently been purchased by search marketing mogul Neil Patel and is a great tool for digging up a boatload of long tail keywords when running an SEO campaign looking for new keywords.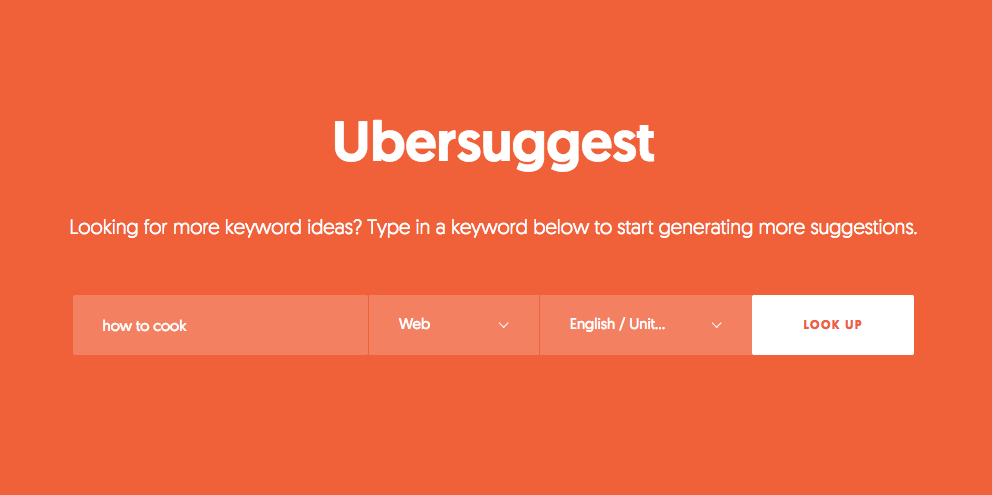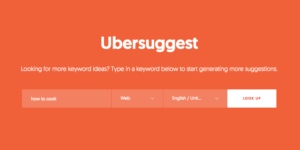 You put in a short, simple, seed keyword or keyword phrase – in my screenshot I've used 'how to cook' as a seed keyword phrase – and hit 'Look Up'.
Now sit back and watch the magic happen.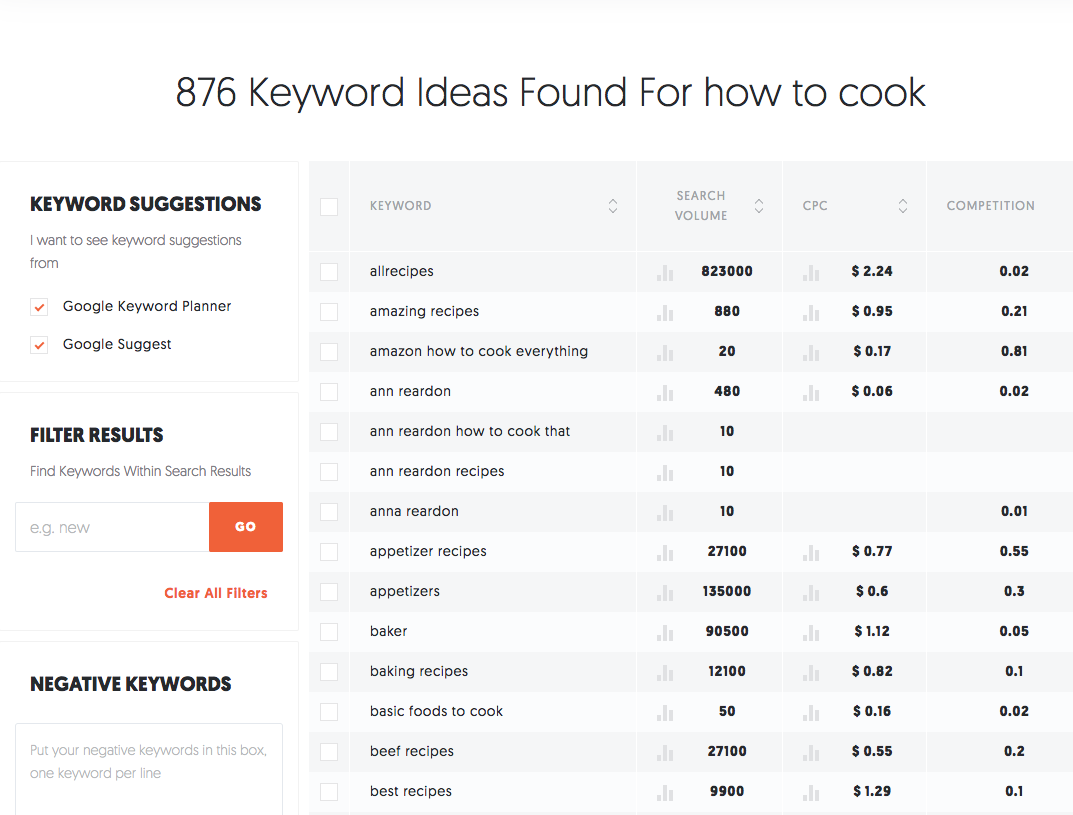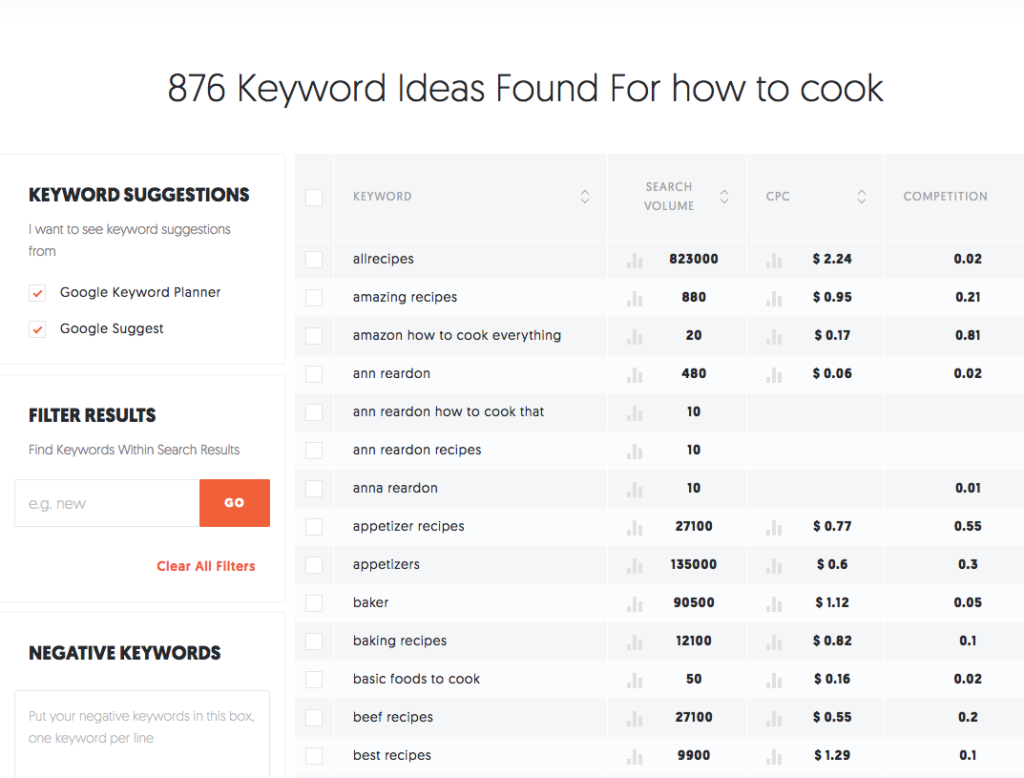 It takes a few seconds then will spit back a ton of keywords, and more importantly long tail key words which are longer search terms with lower search volume, therefore lower competition,  and therefore easier to rank for.
Scroll to the bottom, Export as CSV, load up in a Google Spreadsheet and you are half way to more visitors. Now all you have to do is rake through the data, find opportunities, write some content, and hit Publish. Definitely worth checking out… https://ubersuggest.org
The content marketers secret weapon? Answer the Public goes deep into search engine keyword data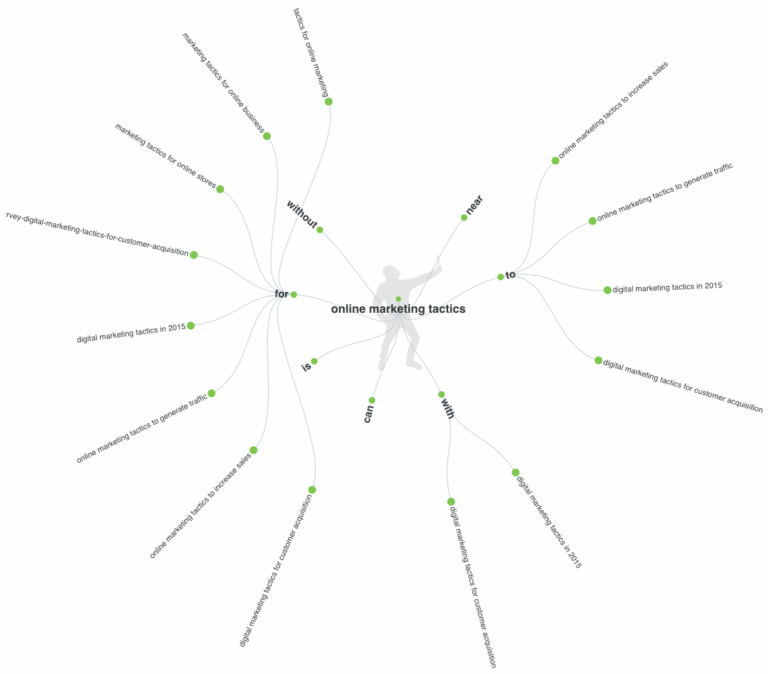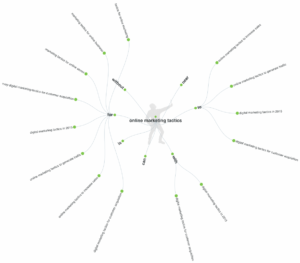 AnswerThePublic is a suggestion result tool which grabs its data from Google and Bing. It's a goldmine of insights for today's marketers.
This is an exhaustive tool that you, or your writer, or someone on your marketing team, can take high level keywords like "marketing tips", and turn it into a ton of content ideas.
Since generating keywords from real search data, ie what people are actually searching for, is the most potent source of keyword research you can be involved in. With this in mind, Answer The Public might be one of the best, and likely under-utilized tools on the market and a goldmine for content ideas.
A keyword tool for Windows users: Good Keywords digs to find keyword phrases based on web, social, and news trends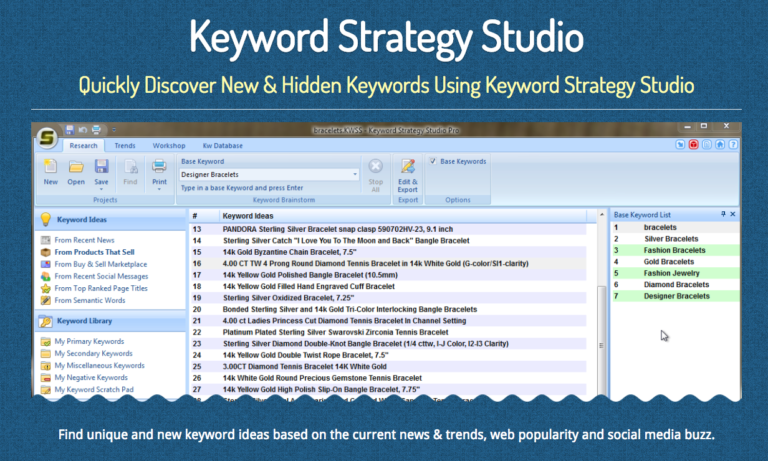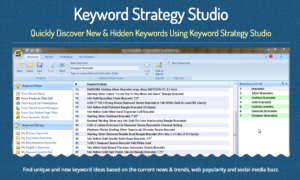 Good Keywords is software that finds keyword phrases to use throughout your blog posts, and online marketing/ad copy. It finds unique and new keyword ideas based on the current news & trends, web popularity and social media buzz around the topic.
It's Windows-only so I didn't get a chance to use it, but it's a keyword generator, and different businesses find value in different keywords generators so if you're on Windows and are looking for long tail keywords, I'm a firm believer in casting a wide net. Run some seed keywords through Good Keywords and see what you think.
In our search for the best free online marketing tools we find Keyword Tool which doesn't even require an account to use, offering tons of value for free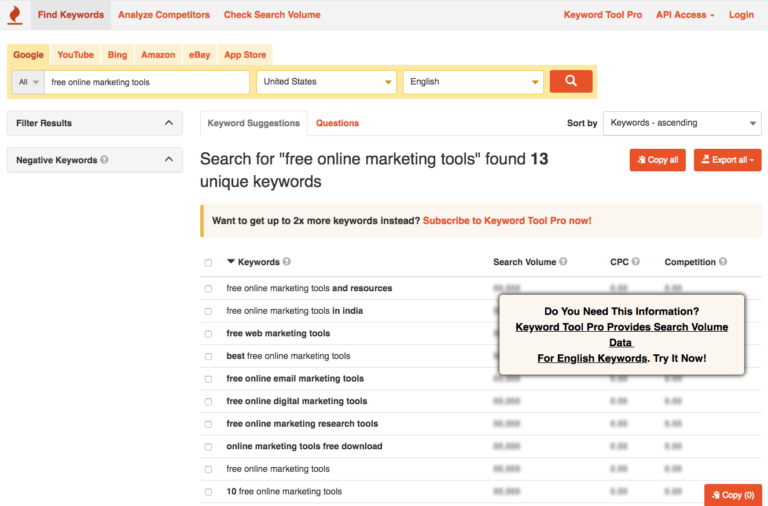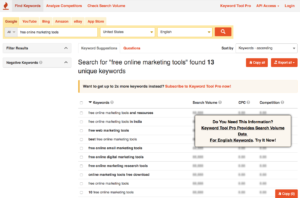 The free version of Keyword Tool generates up to 750+ long-tail keyword suggestions for every search term, which is plenty to get you started. If you find value from these tools – and are using them to generate revenue – you'll quickly find the money in your bank account to make them work.
We loved that you can use Keyword Tool absolutely for free – no account needed! – and it claims to be nearly as accurate as Google's Keyword Planner (your mileage may vary but I still recommend going straight to the source).
Using the free version: Dump in some keywords, generate some related keyword phrases, click 'Copy All', and paste them into a basic text editor. Rinse and repeat, until you've got a large list of keywords. Take those to Google's Keyword Planner and get search volume for each of them, export CSV, import as a spreadsheet, sort the search volume column as Z➔A and you've got a nice set of keywords to work with. I brushed over that process because it's one of the most common things we do here in the office, but if you'd like more information on this let me know in the comments.
If you're worried about duplicate content or broken links on your site, Siteliner is worth checking out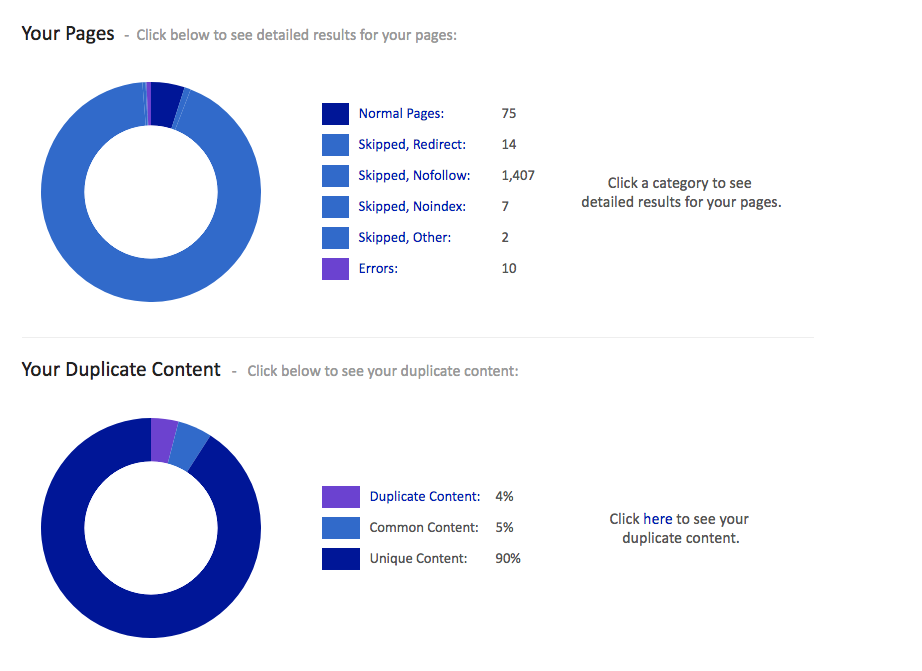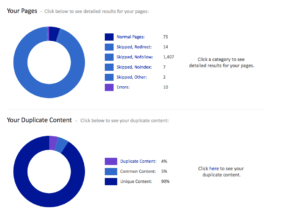 Siteliner finds duplicate or common content on your site, while simultaneously identifying broken links, then outputs the data for you to look over.
One of the things I loved about their output was for each item, they compare you to other websites, so you can better understand the areas to focus your fixes on first.
Use Google Trends to uncover seasonal content, rule out "keyword unicorns", and pinpoint your Facebook Ads or Google AdWords campaigns
Google Trends is an online search tool that allows users to view the frequency of queries for specific keywords and phrases over a specific time period.
To cut through the nonsense, use Google Trends for things like identifying seasonal trends, and creating/promoting relevant content during the right time of year.
You can see Google Trends to verify the relevance of keywords that stand out (like ahrefs talks about in their "keyword unicorns" section) to rule out false positives.
I've heard of others using it to get rough ideas on related queries but I've never got much value from that. If you're using Google Trends to uncover content opportunities like this, let me know how.
If you sell AdWords or Facebook Ads – or any other PPC for that matter – you can use the geographic settings in Google Trends to identify specific cities and areas to target via Google Trends, which I think is pretty cool.
Over all this is another spectacular from the crazy engineers over at Google. 🙌🏽
Advanced anchor text analytics to customize your backlink profile are easy with Linkio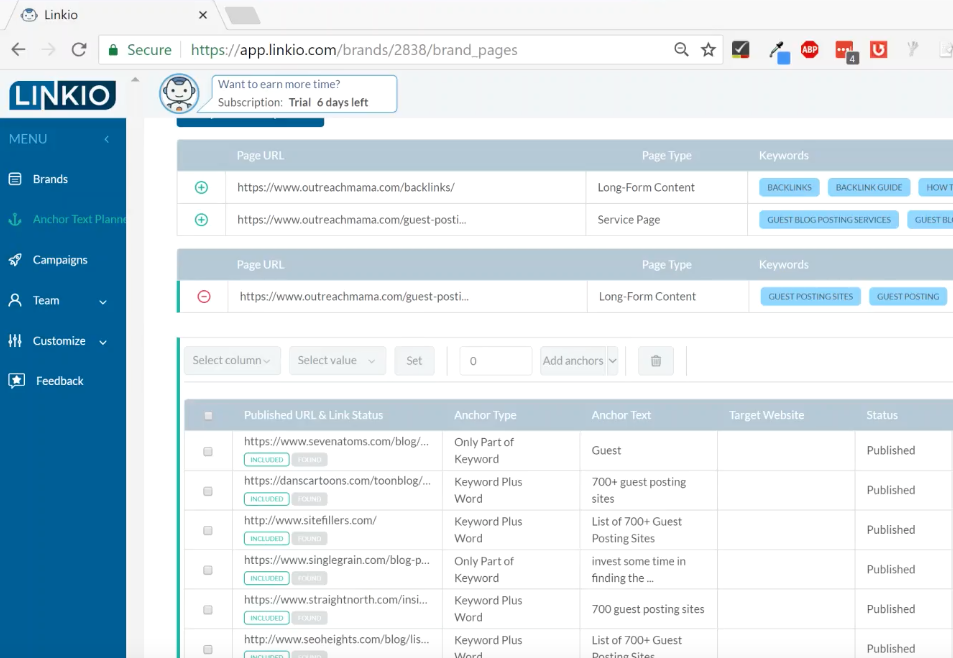 Even though this is a paid tool, I've added it to the list because the trial gives you amazing insight into the profile of your anchor text's across links (anchor text being the highlighted words people can click on as a link). If you're building links to your site and want to know what kind of anchor text's you should be using, Linkio provides that information at a quick glance.
If you're creating backlinks day in, day out – you can hand this data to your contractors and have them continue to build an optimized anchor text profile without a ton of back and forth.
The aptly named Bulk Keyword Builder is a quick & dirty bulk keyword generator
If you own a local business, or do a lot of work for local businesses, Bulk Keyword Builder is a tool you'll have seen or used before. Even if you haven't used IMforSMB's version, you'll be aware of and comfortable with the style of tool.
This Bulk Keyword Generation takes one or more categories you choose, and mix-and-matches keywords with a set fo locations you choose. Multiplying them all together provides you with a giant list of keywords surrounding that business, given your industry and location.
In fact, here's a bunch of free Google products you should probably use in your business
Google Analytics is the end-all be-all best free tool for most any website when it comes down to it
What can be said about Google Analytics that hasn't already been said. In it's most basic form, it tells you who was on your website and when.
When you graduate from drooooooling 🤤 over the numbers in your unique visitors section, you'll want to setup some custom dashboards. Think effective, not aesthetic here, and keep it productive.
If you're running a social media campaign – and I can't stress this enough – tag every freaking URL so you know from which post, which opt-in, which ad, which tweet, or share, or comment, or whatever sent you that traffic. Easy to do with Google Analytics URL Builder Chrome extension (there's one for Firefox, too)
Another advanced setup (i.e. a few hours spent on the front end, for it to work seamlessly forever after) is to setup Goals for various verticals within your analytics. This pays off when you go to tie in Zapier triggers, and really start automating tasks not just within the website, but within the business itself.
In some regards, Google Keyword Planner is the best keyword research tool on the market… It would be stupid not to include it
The Google AdWords Keyword Planner is a free tool to help when looking for keyword ideas and estimating how keywords might perform. If it considered a lifeline for keyword research because you're getting data on prospective keywords straight from the horses mouth (ie. from Google's search results, and pay per click ads). At face value, the data is as accurate and granular as you can get.
SEO's (and, of course, PPC agencies) are typically using this tool for one of the following:
Search for new keywords: Allows you to type in a phrase, website, or category to generate new ideas
Get search volume and trends: Shows the historical trending and search volume data of keywords
Get click and cost performance forecasts: Gives you performance projections for your keyword lists based on average bids and your budget
While it's great at cost analysis, I've approached today's article from a search engine optimization perspective, so we'll skip that, I've never used it for finding new, but we do use it in-house for finding lateral keywords.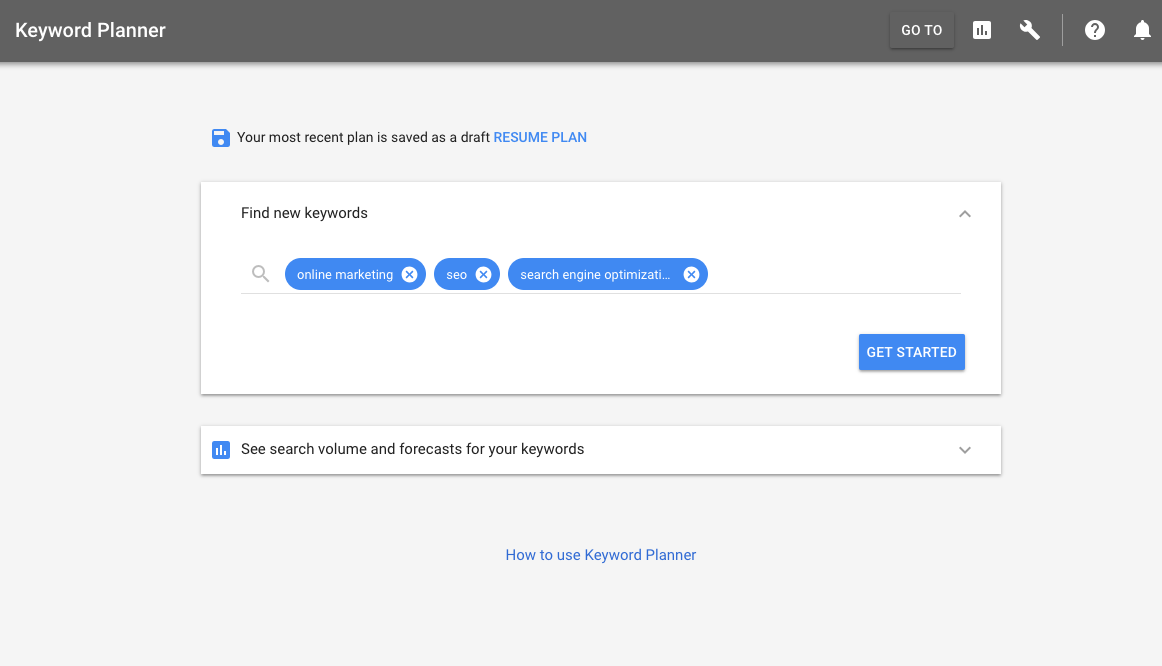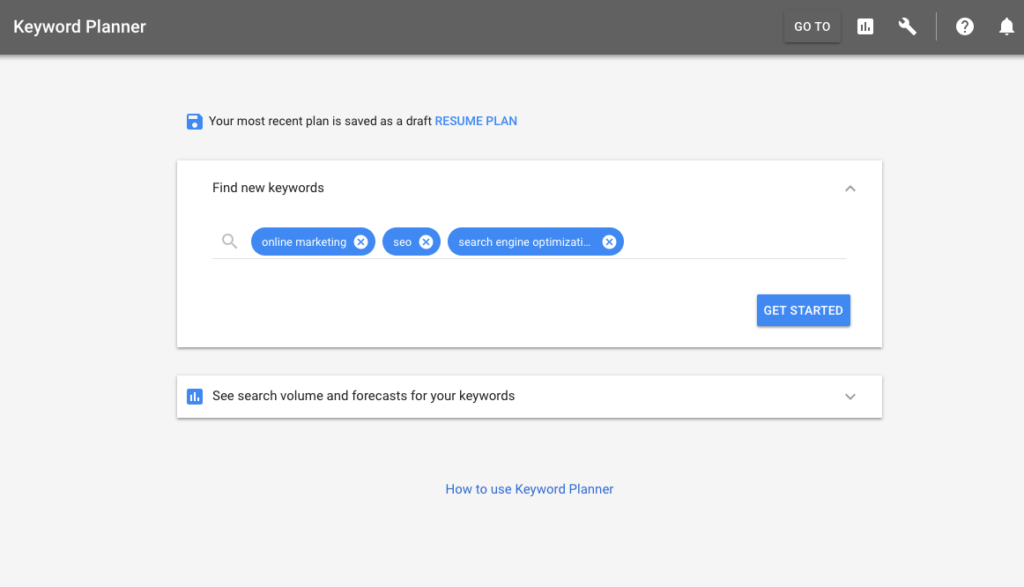 The main thing we use it for here at the agency is getting volume on long tail keywords
The best long tail keywords tend not to come with a ton of good (read: accurate) data, but passing them back through Google's Keyword Planner unveils wonderful opportunities.
In some ways it feels silly to include Google's Keyword Planner on the list because it's such an obvious staple to the industry and within the SEO community, but it would be equally silly to not include it in an 'Ultimate list' of free SEO tools, as well.
An integral tool for the modern online business, Google Search Console uncovers what's ranking, what's driving traffic, what content is being found on your website, and highlights any technical errors your website is making
Back in September 2013, Google made the decision to encrypt all searches, which meant that Google Analytics no longer showed keyword data.
Search Engine Optimizers around the world erupted, claiming "SEO is dead!" but the solution was somewhat simpler. Back then we called it 'Google Webmaster Tools', nowadays the kids are calling it Google Search Console.
It's safe to say you're probably already setup and comfortable with Google Search Console, but if not, you're going to want to get setup, which will unlock and open up your keyword data to you, so you can see what's driving your traffic.
We think of Google Search Console as an earpiece into Google's offices when they talk about us. It keeps you up on any errors with your site, allows you to explicitly label your sitemap data to give them the best chance of finding your new content.
It let's you know how you're being indexed, what people are searching for, and gives you a deep dive into how people are using your site.
The main things you want to ensure when you first get signed up is to make sure you're tracking everything:
http://example.com
http://www.example.com
https://example.com
https://www.example.com
Any other subdomains…
The HTML improvements area is something to keep an eye on, and has a bunch of good info when optimizing your site.
You'll also find all the keyword data, clicks, impressions, CTR, and position data, which you can then drill down into via individual pages, keywords, countries, devices (desktop, mobile, tablet), search type (web, images, videos), search appearance (AMP or rich snippets), and then further by filtering the date range you're interested in.
Make sure the Crawl section is well maintained. Keep an eye on Crawl Errors, and iron things out when they pop up.
Without Google Search Console setup, I truly don't think you can say you're giving SEO an honest effort, so definitely do that here, now, today if you haven't already but otherwise, make sure you're setting up daily, weekly, or monthly tasks for various pieces of this amazing tool from Google. Leverage it to uncover hiccups in your marketing campaigns and squeeze the most out of the content and visitors you're working with.
Easy access to Documents, Spreadsheets, and Presentations Google Drive shared within your business (and with others!)
We run everything through Google Drive. I remember Ryan Stewart once tweeted something like, "If I send you a Google Doc and you send back a Word Doc, you're dead to me." and here at our small agency we couldn't agree more.
We do everything in Google Drive. All of our internal documents, presentations, and spreadsheets are within Google Drive because it gives us spectacular benefits that Microsoft Word and Excel cannot. All of our client documents are on Google Drive and shared with them, and automatically interact with our internal documents
Specifically, I'm talking about sharing one link with my a client and never having to worry if you've got the latest version again. Everything is the latest version. All the time.
Beyond the fact that infinite amount of people can edit the document at the same time, and how easy it is to share, edit, and control access? It's a no brainer.
Keyword Eye: A visual Competitor Analysis tool for discovering new keyword opportunities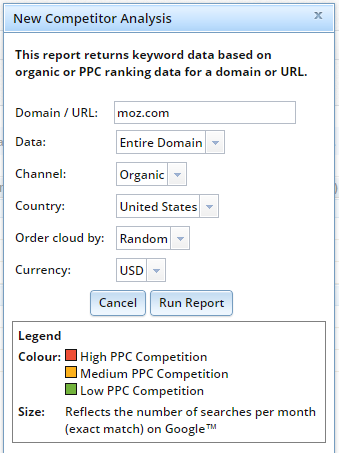 When we checked out Keyword Eye, their website was broken and we couldn't get a good grasp on how this tool worked, and I'd not used it before so if you have, let us know in the comments how you're using it.
Having spoken to other digital marketing consultants in the space, they're using it mainly for two things:
Competitor Research: Use it to dig up content insights and keywords
Keyword Research: Use it to discover new keyword opportunities. Their graphs and data visualizations make finding new keywords a matter of glancing at a word cloud.
If ever a marketing tool on out list didn't deserve a screenshot, it would be the one where the website doesn't load, but I was feeling gracious and included one anyway.
When you need the Domain Authority of a giant list of Domains or URL's, Bulk DA Checker is a great tool
I've got a soft spot for software that does one thing well. I've also got a soft spot for software that does exactly what you expect it to. Bulk DA Checker does both. It's a bulk DA checker: Feed it a pile of URL's and it spits back the Domain Authority of each domain.
[box]
Aside: DA stands for Domain Authority, but if you didn't know that, you should probably just skip this tool… it's not for you.
[/box]
It's always a good idea to do an SEO site checkup, and for that there's SeoSiteCheckup
If you're unsure of where to start, start at home. Work on your site. Once you're up to par, hit the pavement and get people talking about you!
For the first part SeoSiteCheckup is a great high-level tool that breaks down a checklist of a bunch of datapoints, and explains in plain english what each means.
I'm not a fan of their Advanced SEO tab, but the other 4 tabs look like a great starting point: General SEO, Speed, Server & Security, Mobile Usability. Even if you're not clickity-clackety technical, you can take the results of the checkup and paste them into a Google Doc (or MS Word if you're old school) and sending it over to a developer to look after.
I'm a sucker for running my domain through them and for good reason: We spend so much time working on other people's sites that ours often gets neglected. (what's that they say about the cobbler's children?)
A gigantic resource of free SEO tools: Small SEO Tools delivers a lot of simple, small tools that do one thing well
I have to be honest here, I had no idea about Small SEO Tools before writing this but HOLY SMOKES! This is an enormous library of free, simple, small tools that each do one thing well. At first I was going to include a bullet list of each of their tools (I even entertained linking to each!) but it was enormous, so instead I've included it below separated by commas:
Plagiarism Checker, Article Rewriter, Grammar Checker, Word Count Checker, Spell Checker, Online MD5 Generator, Change Text Case, Merge Words Online Tool, Image to Text Converter, Translate English To English, Reverse Image Search, Image Compression, Favicon Generator Tool, Video to GIF Converter, Image Resizer, Crop Image, Convert to JPG, RGB to Hex, Keyword Position, Keywords Density Checker, Keywords Suggestions Tool, Website Keywords Suggestions Tool, keywords Rich Domains Suggestions Tool, Related keywords Finder, Long Tail Keyword Suggestion Tool, Keyword Competition Checker, SEO Keyword Competition Analysis, Live Keyword Analyzer, Backlink Checker, Backlink Maker, Website Link Count Checker, Website Broken Link Checker, Link Price Calculator, Reciprocal Link Checker, Website Link Analyzer Tool, Website SEO Score Checker, Google Pagerank Checker, Online Ping Website Tool, Website Page Speed Checker, Website Page Size Checker, Website Page Snooper, Website Hit Counter, XML Sitemap Generator, Url Rewriting Tool, Screen Resolution Simulator, Online Url Encoder Decoder, Adsense Calculator, Open Graph Checker, Open Graph Generator, QR Code Generator, Htaccess Redirect Generator, Get HTTP Headers, Twitter Card Generator, Internet Connection PTCL Speed Test Tool, WordPress Theme Detector, Instant Search Suggestions Tool, AVG Antivirus Checker, Website Screenshot Generator, Email Privacy, Mobile Friendly Test, Youtube Video Downloader, CSS Minifier, HTML Minifier, JS Minifier, Robots.txt Generator, URL Shortener, Link Tracker, Reverse Ip Domain Check, Check Server Status, Class C ip Checker, Code to Text Ratio Checker, Alexa Rank Comparison, Page Comparison, Spider Simulator, Comparison Search, Google Cache Checker, Whois Checker, Mozrank Checker, Page Authority Checker, Google Index Checker, Alexa Rank Checker, Redirect Checker, Similar Page Checker, Cloaking Checker, Google Malware Checker, Find Facebook ID, Check GZIP compression, SSL Checker, Pokemon Go Server Status Finder, Blog Finder Tool, GEO IP Locator, Apps Rank Tracking Tool, What is my Browser, Social Stats Checker, What is My IP, ip Location, Free Daily Proxy List, Domain Age Checker, Domain Authority Checker, Domain Ip Lookup, Domain Hosting Checker, Find DNS records, Domain Name Search, Domain to IP, Blacklist Lookup, Expired Domains Tool, Meta Tags Analyzer, Meta Tag Generator, Password Encryption Utility, Password Strength Checker, Password Generator, Merge PDF, Rotate PDF, Unlock PDF, Lock PDF, Watermark, Pdf to Word, Word to Pdf, Pdf to Jpg, Jpg to Pdf, PowerPoint to Pdf
[Editor's note: I told you it was a big list] 
This is a seriously great resource for anyone involved in day-to-day search engine optimization. Next time you're looking to do something small and can't find a tool to simplify it for you, definitely give Small SEO Tools a shot.
Majestic Backlink Analyzer's FREE version is still top of the heap for some metrics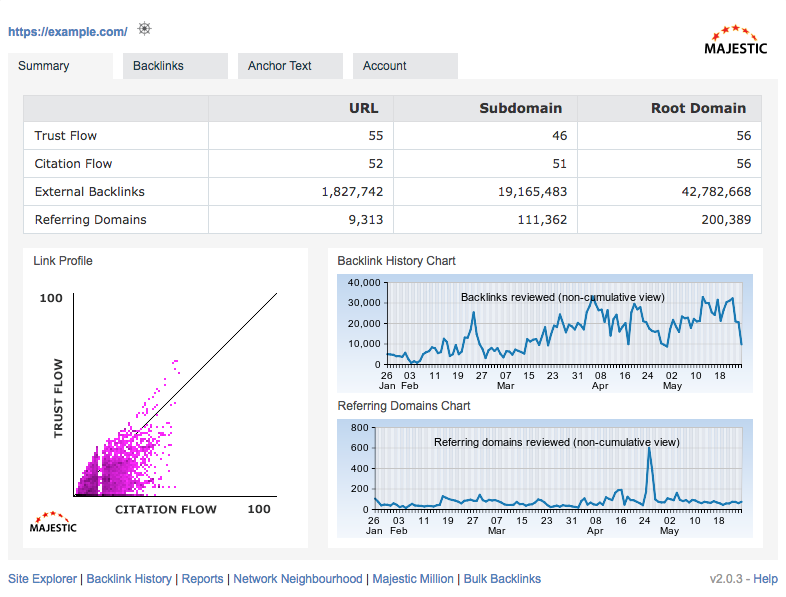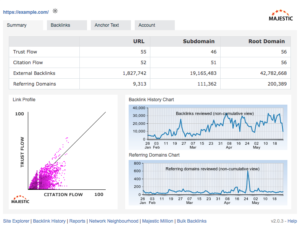 Majestic's free Backlink Analyzer is a Chrome extension and Firefox add-on that gives a couple great metrics, and we continue to use it as one of the many, many valuable metrics that make up the search marketing, and SEO industry.
Citation Flow and perhaps even more so Trust Flow still have a firm place in SEO, though metrics changes over time so your mileage may vary.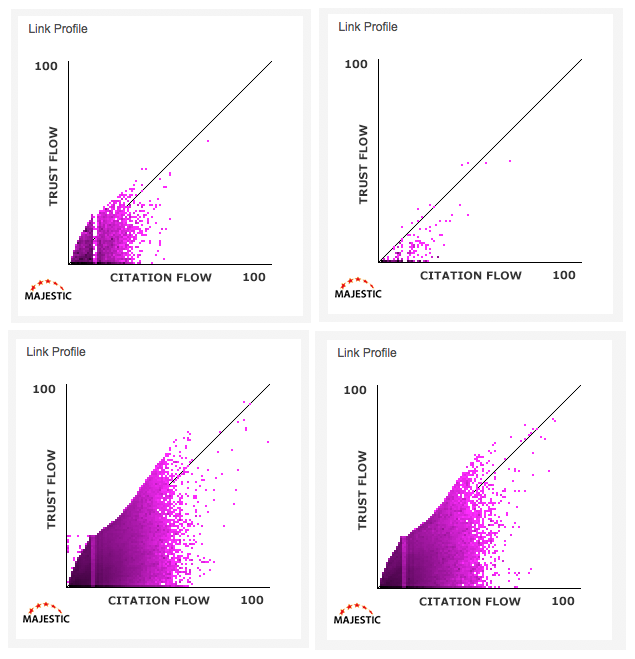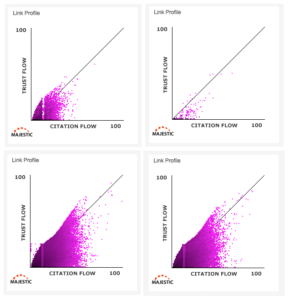 More than anything, I think that having an 'at-a-glance' understanding of your property in comparison to others (in your case we're talking about websites) is one of the strongest themes across business that you can apply, and this is where Majestic's Backlink Analyzer really shines.
That pink graph. That sweet sweet pink graph! It's a beautiful fingerprint into the backlink profile of the website, and when compared to other sites around it, give you a better idea of what you need to morph your own backlink profile into to get where they are, and/or to beat them.
In the second screenshot I'm showing the backlink profiles of various social media platforms. Just by looking, you are easily able to discern which 2 are alive and well, and which two are dead, obsolete, or otherwise past their prime.
If you're looking for an in-depth SEO scan, Check SEO Report just became your best friend in marketing
You get an extensive SEO report out, that does a deep enough look at how you're setup that I think is worth running any domain/page through. They take a look at virtually any on-page metric you could care about at a glance, focusing on the following main categories: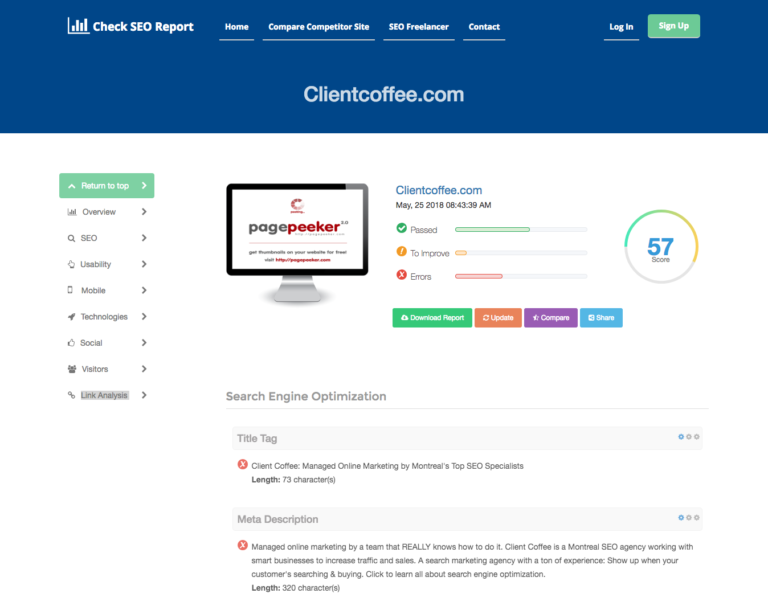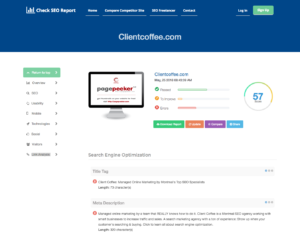 SEO
Usability
Mobile
Technologies
Social
Visitors
and some basic Link Analysis
Check SEO Report does a deep dive into a lot of indicators, so don't take their report as gospel (as you can see in the screenshot this site didn't do too well), but like anything in SEO: seeing the data, knowing what you're looking at, understanding why it's like that and the trade-offs you might be looking at is what matters.
The Link Research SEO Toolbar assigns page and domain authority metrics to search results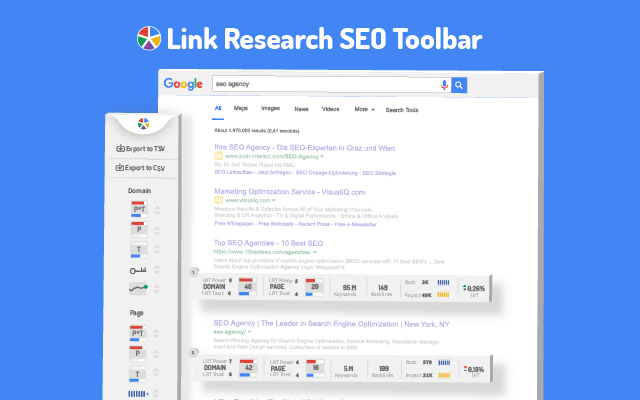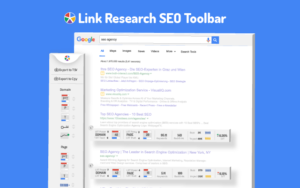 Another domain and page authority score you can use to weigh the value/force a domain or page holds, you can use Link Research SEO Toolbar.
It currently works with Google, Bing and Yandex with plans to have "toolbars everywhere" functionality coming soon.
It also does what it can to count backlinks and social buzz in the way of, "How many times has this been shared? Mentioned? Liked, etc."
We're already setup to score domain and page authority, but if we were starting over I'd give tools like Link Research SEO Toolbar a shot, as there are always new metrics coming out that flip the game upside down and the chase begins. If you can get ahead of a few of those trends, you'll become a very wealthy person.
Digging deep into competitor backlink profiles? Check out Backlink Watch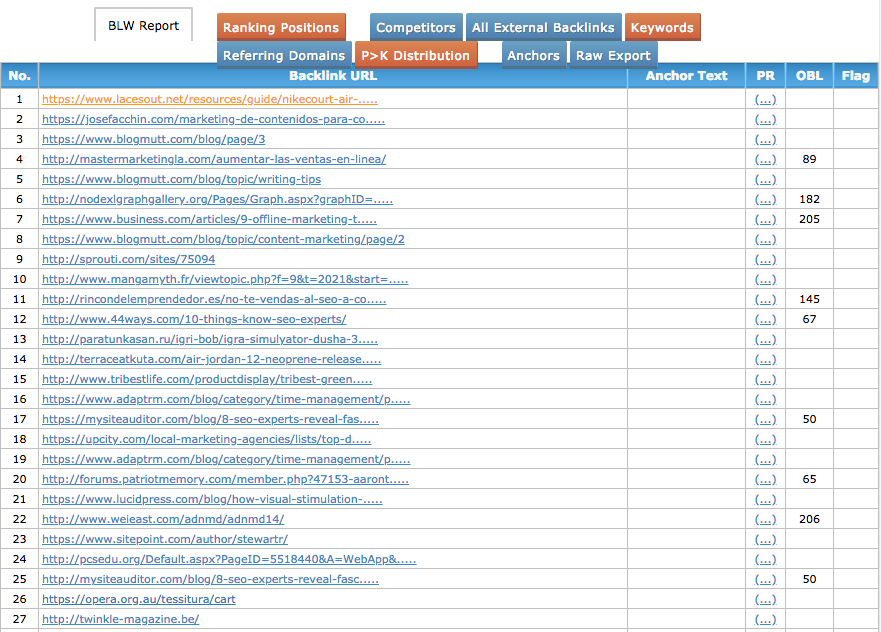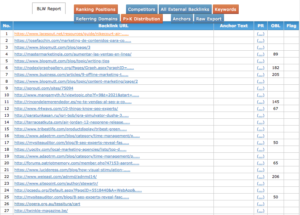 If you're looking for at competitor backlink profiles, it's good to grab backlink profiles from a variety of sources (casting a wide net before filtering out uniques is always a good idea in data mining) and that's where BackLink Watch comes in.
It's a gritty little tool that uncovers backlinks (and therefor backlink opportunities). From a quick test, the results weren't super accurate but as mentioned above, when you're shopping for opportunities, you want to get some false positive because it probably means you came close to getting all the correct data, and there aren't gems left behind!
Another large list of free tools tools: SEO Chat is a swiss army knife of tools
Another large list of search marketing tools and small marketing apps is SEO Chat. Landing on their site you're presented with a large list of small marketing apps. Some look more valuable than others for SEO's but if you're anything like us, you're wearing a lot of hats so maybe SEO Chat will have what you're looking for.
I took a quick look at one of the tools and it worked well; a slick little app to dig up long tail keywords. You input a seed keyword, and set it to dig 1, 2, or 3 levels deep. Always, always, always set to go as deep as possible if you have the time (you almost always do). Why?
[box]
A quick crash course in long tail SEO: Long tail keywords deserve wide nets. They are the shallow fish, the easy prey. Cast wide nets, scrape up a lot of extra data/keywords, cut out the crap/shitty keywords bit by bit, and your potential winners/gold nuggets will begin to emerge.
[/box]
The point being, if you're looking for long tail keywords, don't sell yourself short… always dig into that third level/third degree of keywords, and dig through the slosh to uncover gems.
The width of your net, will determine the worth of the gold you find. Have fun!
SiteBulb is a paid tool that's helps with spidering and crawling your site
This is a paid competitor to Screaming Frog some SEO's have been using lately and are liking. SiteBulb offers spidering and crawling for:
Crawl Maps and Internal URLs
Links and Indexability
On Page SEO
Security
Resources and Performance
Accessibility and AMP
International and localization
Google/XML Sitemaps
Search Traffic, and…
Keywords
Screaming Frog is a tough cookie to crack as it's been the industry standard for so long and most SEO's already have it in their arsenal but we invite new tools to enter the market and shake things up, so even though they're a paid tool I wanted to include them.
How to stay ahead of the SEO industry: Do better business. More high-quality and FREE marketing advice from around the web
It wouldn't fair if we didn't mention SEO Book which has a serious list for a bunch of tools like keyword research, etc.
The team over at Webris – headed by Ryan Stweart – put together a big list of free SEO Analysis tools, as well that deserves mention.
You can't go wrong with the advice that Bryan Harris over at VideoFruit. I don't think there's a better resource online for growing your mailing list, and if there is it's probably Neville Medhora due to how important kopywriting is for your business.
If you don't know the man behind OK Dork and AppSumo, you should probably get familiar. A past Facebook hire, and one of the marketers that helped Mint.com take off when it first started, he is a fucking animal when it comes to marketing. That means online and offline marketing, he's a beast top to bottom (but my favorite content from him is his Samuel L Jackson marketing hack)
Brian Dean over at Backlinko is full of great SEO advice, and is considered an online marketing guru (*shudder* I hate that word…) but recently he's been taking over the YouTube industry. His Skyscraper technique is really a great piece of content that created an enormous shift in how content marketing works, and this marketing tool round-up post is a perfect example of taking his advice and putting it to work.
Are you still looking for more free online marketing tools?!
After rating well over 40 separate online marketing tools, you're still hungry for more? Assuming you're some sort of deranged SEO specialist, or a small business owner with an insatiable appetite for growing your business with online marketing, I expect there will always be someone looking to gorge on more, and more content.
So there you have it… a giant list of online marketing tools you can started using today to details every single aspect of your search engine optimization, brand health and analytics.
If I've missed any tools – and obviously I have – let me know in the comments. If you stumbled across a tool on this list that is perfect for what you need, let us know in the comments as well!