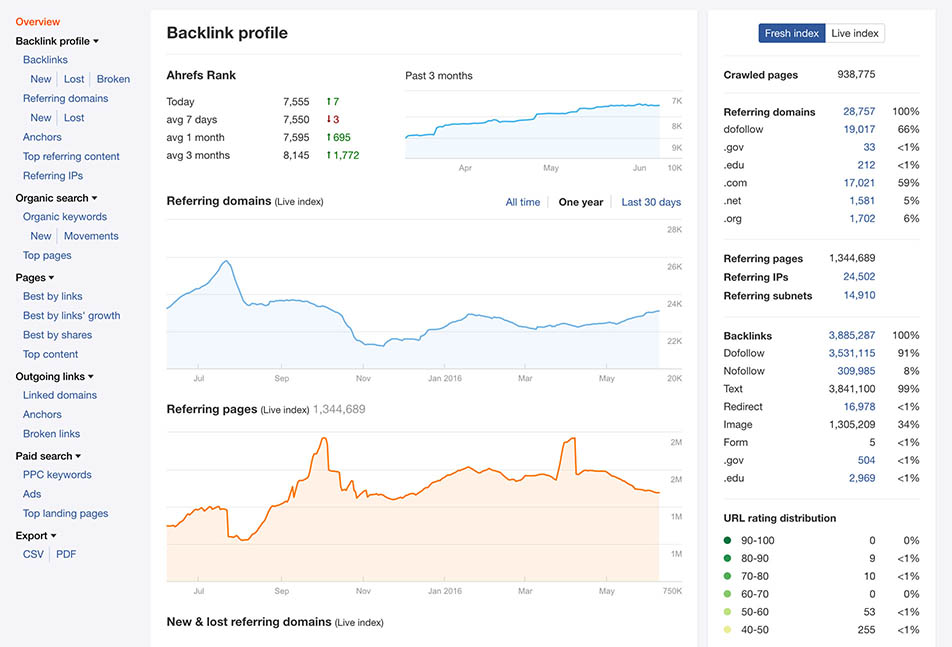 Links from other websites pointing to your website are your lifeline when growing your business online.
Link building has traditionally been an afterthought, bolted onto a content marketing campaign to throw some extra juice at your content. A trend towards modern link building has become the small businesses secret weapon in the last few years; it is the linchpin separating successful businesses from the failing ones, and the stakes are high.
Let's look at what makes modern link building so successful, how to do it yourself, how to identify an SEO agency that's out there building links the proper way, plus how to avoid marketing agencies that are relying on dangerous outdated link building methods that can get your site banned from search engines entirely.
What is modern link building and why is it so effective?
In the past, throwing a bunch of fake/spammy links at your content was enough to count as a 'link building campaign', but search engine's are constantly updating their software, and their complex algorithms which determine what pages show up for each search. In modern search marketing terms these outdated (also called black hat) link building techniques which can get you de-indexed at best, or worse yet, banned from search engines across the board.
So if you're paying an SEO agency to grow your business online and they offer link building services, you'll want to make sure they're building links the right way.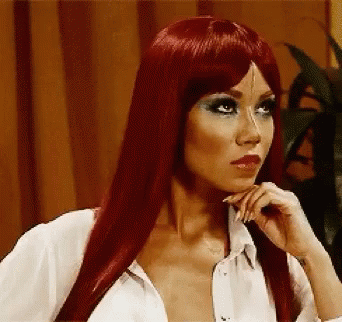 It turns out that answer is a subjective and moral one more than a technical one, so like many things in business… before you go learning any tactics or techniques, you'll need to understand a little bit of the business.
The over-arching idea when it comes to using technology in your business, is that while you can replace human resources with computers, how far you want to take it is up to you. Buyer beware. I recommend using technology within your business to alleviate repetitive tasks rapidly. Don't make the computer do the work, make them do the heavy lifting and leave the actual decision-making up to the human.
This translates well to a modern link building approach.
So when I use the term 'modern link building', I'm talking about humans interacting with humans; companies interacting with companies; brands interacting with brands. Here in the office, that means manually compiling enormous lists of industry leaders and amazing blogs related to you and your industry, then reaching out to those people one by one via email and social media, then working out a deal with them to have them link back to your website. These backlinks tell search engines that your content is useful to people in the real world, and therefor give your site more opportunity in their search results, increasing your rankings.
We're using technology as a tool, but humans do the work.
In contrast, outdated link building would apply to the SEO tactics that force computers to do a bunch of work, make decisions, and execute in large mass marketing campaigns, instead of the heavy lifting and time consuming stuff. When you see link building campaigns where the team is building 500 links through forum posts and directories, that needs to ring alarm bells 🚨 in your head!
Do you think this Micro Plastics company know they'd be signed up to a 'Missing Children' forum, all in the name of getting some links pointing back to their website?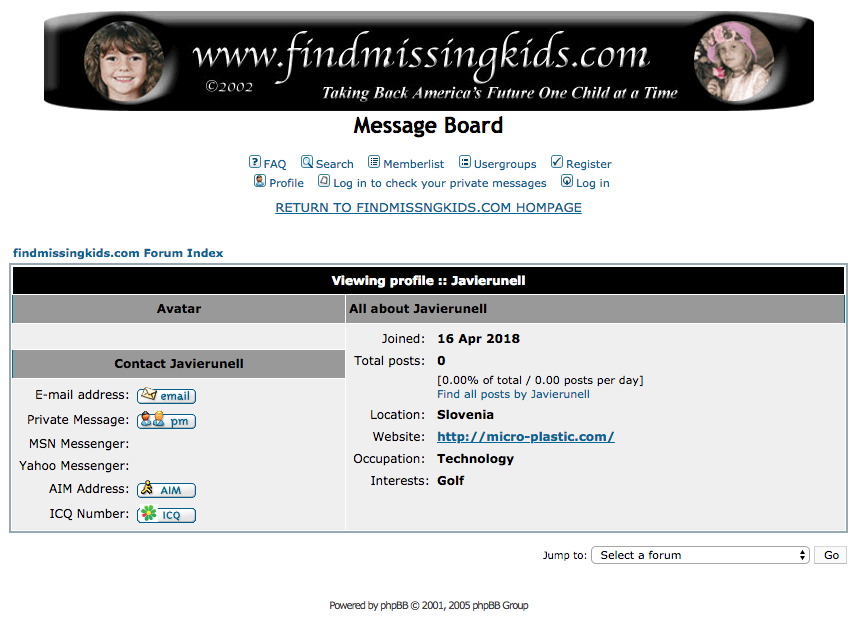 What about this Polish forum for the elderly suffering from Alzheimer's?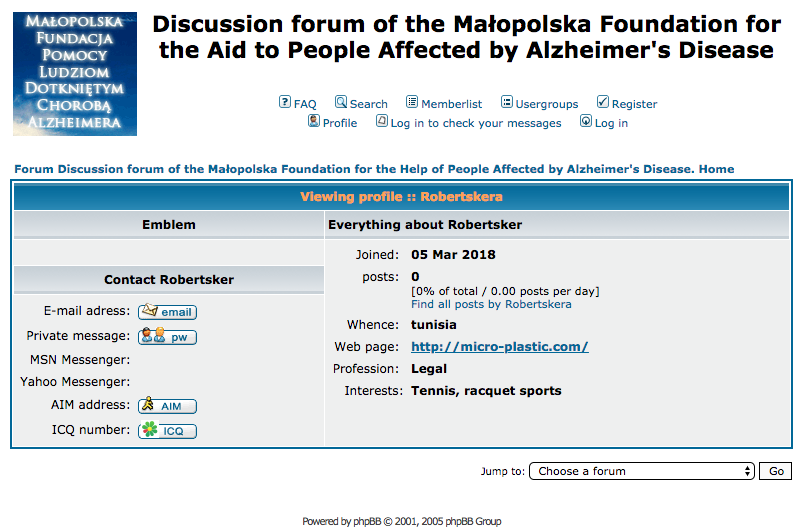 What you're seeing is the result of an SEO agency which relies on getting things done at the click of a button. To identify modern link building, you need to acknowledge that real business doesn't work like that. You're not going to rank #1 in Google at the click of the button. Otherwise someone else would just click the same button and pop up ahead of you.
You're going to have to work for it.
Google is smart enough to know that those links aren't relevant to you, your website, or your industry so how valuable is that link in the grand scheme of things? Then think about all the time and billable hours that will go into having to undo that careless click that resulted in 2,000 backlinks from crappy old forums that no one visits from around the web.
In this sense, modern link building is kind of like future-proofing your business to remain an authority in your industry among the search engines.
How to future proof your business and build links to your site the proper way
Long before the Internet, companies relied on their sales & marketing team to constantly check in with others in the industry; to keep their ear to the streets, pick up on the latest trends and topics, plus build & maintain relationships with other key industry players.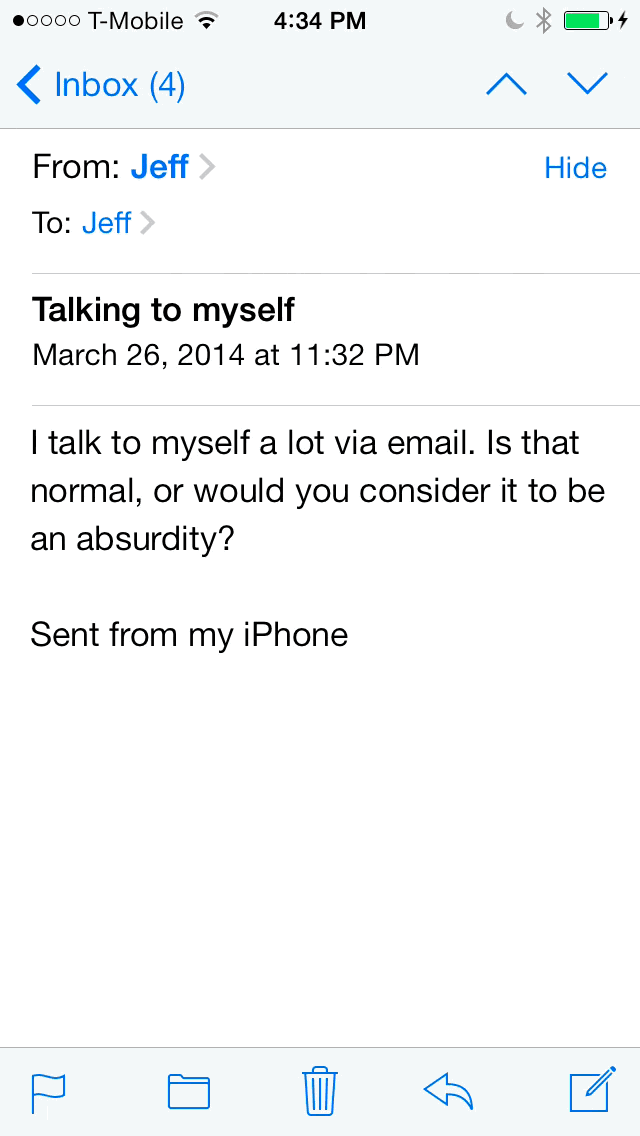 Maybe this was done over the phone, or by setting up a coffee date or a night out entertaining clients or industry cohorts.
Modern marketers, have new tools and technology at their disposal and typically opt for email, social networks, and instant messengers to keep in touch with the industry.
Our in-house approach to link building comes down to finding relevant industry players, leaders and celebrities, then getting in touch with them, building relationships, and finding ways the two brands can benefit one another.
Honestly… In the last couple hundred years, not much has changed. Sure we've replaced horse & carriages and carrier pigeons with the Internet, social media, and email addresses, but the motives and execution haven't changed all that much. It's business as usual here on the Internet.
When building links for today's search engines, there are endless opportunities to work with industry leaders in your space
One way to build links is to identify the various types of blog posts that present a good opportunity, and injecting yourself into the conversation.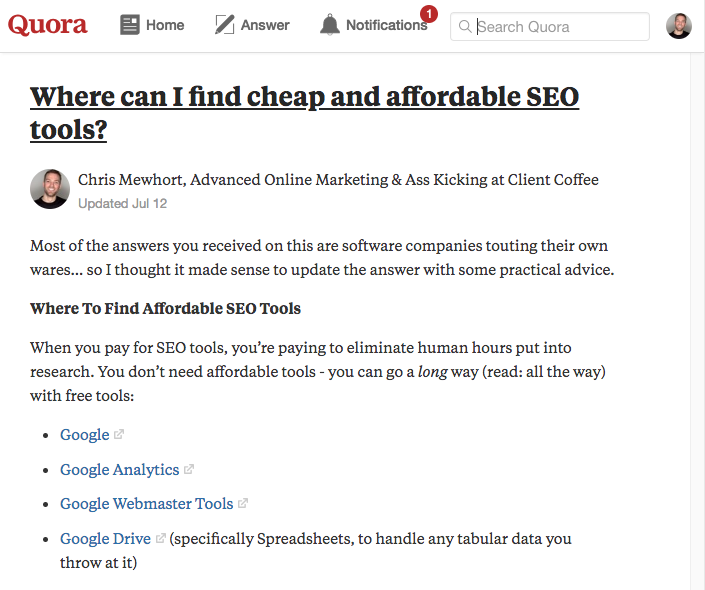 Blog posts come in many shapes and sizes, and a lot of them present marketing opportunities for you and your link building campaigns. There are round up posts, guest/ghost posts, list articles, YouTube videos, review or comparison posts, question & answer platforms like Quora, as well as email marketing opportunities and many, many others.
With an idea of which types of content present link opportunities, your next job is to figure out how to identify the blogs and bloggers which offer an opportunity that search engines will sink their teeth into, understand the industry connection, and push your website up the rankings in their search results.
Google's gameplan is no secret. They want to provide their visitors with the most relevant search results possible, and this ethos is consistent when it comes to assessing the strength (or size, or power, or weight) of each inbound link, too.
If you're an antiques website, a link from a country music forum won't do you much good, since you're not related to the industry at all. In the same breath, a link from Wikipedia or Justin Bieber would definitely move the needle, as Google also takes the weight of the website (or brand) linking to you into account, somewhat obviously.
So if your website is about children's toys and you're getting a link from a website focused on cement mixers, search engines are unlikely to give that link much weight. If, however, you're a children's toy website and gain a link from Toys R Us, or an industry leading toy review website, that link is very likely to carry weight.
Here's an example of a round up post we were recently featured in. Notice that the domain's focus is around websites, WordPress, and marketing… just like our website!
What are the benefits of building links manually?
By building links manually, you are modernizing and future-proofing your marketing efforts.
Having humans on the clock, working to find new opportunities for you costs more than a one-click solution, sure, but the benefits far outweigh the drawbacks. When Google catches wind of you using black hat tactics, the backlash will be devastating for you and your business.
Since the process of finding relevant opportunities and negotiating a valuable deal for both, you're making the link building process a built in aspect of your business development. Google won't punish, demote, un-rank, de-index, or ban you & your website from their search results because you're not manipulating search engines to think you're more authoritative than you ware, you're simply growing your business and showing how authoritative you really are.
The links you receive this way are targeted specifically at your brand and your customers, coming from relevant domains, blogs, and celebrities in your industry. This means:
The potency of these links far exceeds the potency of automated links
Since the traffic on the blog posts which link back to you is also targeted within your industry, you are generating and receiving relevant website traffic from these links
The website isn't marinating in the result of other automated link building campaigns, as you went out and found that link yourself.
Since you're not automating the process, you're not receiving the same backlinks as other clients, from the same websites, over and over; there's no footprint for Google to backtrack. There's nothing unnatural about finding cool people doing the cool things, networking with them, and finding an opportunity to better both of your businesses.
If modern link building follows standard business development best practices, then why aren't more SEO agencies doing it?
The process outlined above is an easy to understand concept:
Find people who might – or whose followers might – be interested in you
Connect with them
Find a mutually beneficial opportunity
Gain a link
Rinse & repeat as needed
This is the same process outlined in modern business development books, is incredibly similar to the process used by both Jordan Belfort (the proclaimed 'Wolf Of Wall Street'), and most modern sales frameworks like Cold Email 2.0.
So if this method of email outreach isn't new or novel, why aren't most SEO agencies and marketing agencies doing it?
The truth is… most marketing agencies suck.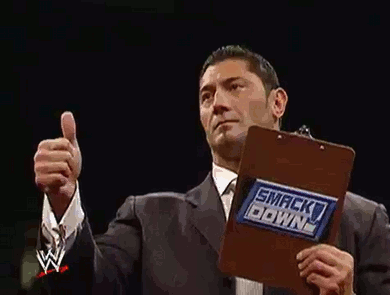 Easy to scale link building campaigns are cheap, quick, and a potentially fatal mistake for your business to make
The Internet has brought with it a lust for 'scalable solutions'; things that can be done quickly on a large scale: One input, many outputs. Small effort invested can have far-reaching and vast impacts for your business on the way out. In a race to the bottom, with competitors slashing their prices, marketing agencies are scrambling to keep up with one another.
By automating work, agencies are able to charge less, work less, and get more done. ( …Or are they?)
Take a client's money
Click a button
Instantly build thousands of links from various websites you've identified as link opportunities
In theory, scalability is a great place to focus your energy, but it's akin to fast food and should be treated as such. In other words, while scalability may solve the problem of being hungry, it doesn't solve the problem of hunger.
These automated links can be built in a ton of ways: old and outdated forum software, a hacked website, a network of inter-linking blogs and blog posts, forgotten websites that allow comments with links, etc. etc.
The problem with these links are two-fold:
The websites typically don't know they're linking to you
The same thousand-plus websites linking to your site are also pointing at the exact same websites across the board
The thing is when it comes to link building, it's not just about quantity of links; quality matters too. In fact, in some cases a focus on quantity is a fast-track road to failure. As the hands of time (and Google's algorithm's) catch up to you, they learn those links weren't pointed at your website in good faith.
The implications of tricking Google into thinking your site is authoritative via an automated mass-linking campaign can vary from de-indexing your website (meaning you won't show up in Google until you remove those 50,000 crappy links), to banning your domain (meaning you won't show up in Google until you buy a new domain name, in other words a new 'dot-com address').
While idea of losing your domain name may not bother some SEO agencies, it would be devastating for you as one of our own clients and therefor devastating for us should something like that happen to you. We're here to help build your business online and that means treating (and protecting) your business as if it were our own.
If other agencies were as noble, our job of educating you on the 'right' way to do things wouldn't be such an uphill battle.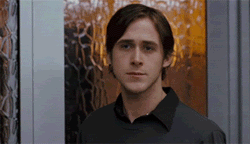 The process for modern link building outlined above isn't inherently difficult, but it takes consistent human resources, a set of repeatable processes, and hardcore execution.
And since managing humans is the most difficult part of running a business, most agencies – comfortably sitting on their automated link building methods, and simultaneously being pressured to lower their price in an effort differentiate themselves – often can't keep up with the plate-spinning required while manually building links.
There's nothing stopping them (or you) from executing a modern link building campaign yourselves, and reaping all the rewards, but it takes hard work, consistency, and some humility which tends to slow people down over the course of weeks and months. For a lot of businesses they'd rather work with someone who's done it before and knows the in's and out's of the industry, plus it saves a ton of banging your head against the wall trying to figure out how to do things.
What kinds of link building should you stay away from? Key concepts that should set off alarm bells when shopping for a link building agency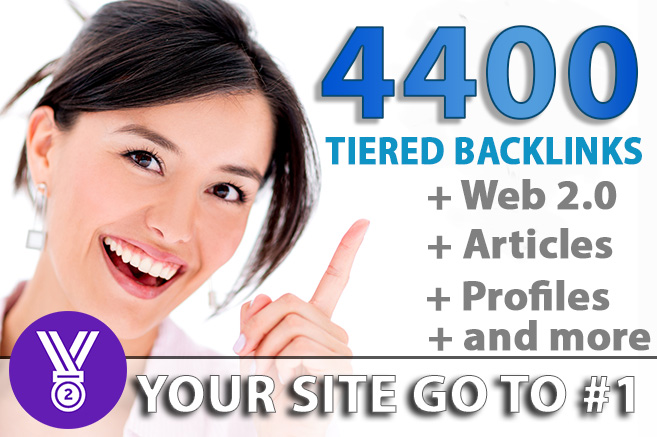 Potentially the hardest part of the explaining the red flags in the SEO world is getting business owners and marketers to pull their head out of their ass and start to understand when something is too good to be true.
You can read as much as you want, but if you turn around and think $100 for 25 links is a "good deal" then you're already walking a precariously fine line between grey hat and black hat link building techniques. If you play with fire, eventually you get burned.
Search engine marketing and SEO isn't a set-it-and-forget-it marketing channel. It's competitive. It's consistent. It takes hard & ongoing work; month after month, year after year. I'd love to let you down softly, but that won't do you any good… Get used to it. Ongoing online marketing efforts are here to stay, and corner cutting is your enemy, like anywhere else in business.
If you see an agency offering thousands of links in a short period of time, question where those links are coming from. If necessary, ask the agency's representative for some examples of links they've built. If they're unable to provide links, ask yourself whether they might be hiding something. Are these links hidden behind a private blog network? Are the links coming from an automated process or robot?
Ask where & what domains the links are coming from, and to see some examples of links they've acquired. Are the domains relevant to the websites they are linking to? Do the links appear to be naturally placed within the article? How natural and fluent is the language in the article? Does it appear to be written for a search engine or for real traffic visiting the website.
Keep coming back to the concept of human resources… How realistic is it that humans were involved in the process of getting these links? How realistic is it that humans are visiting the website, blog post, or article and getting value from it?
One of the black hat link building techniques still getting love is the Private Blog Network (PBN), which is a small, hidden, network of privately-owned blogs which have 'established themselves' as authorities within an industry according to search engines. In reality, they usually don't receive much traffic and the content quality shows it.
Typically the SEO agency controls the content on PBN blogs and while I often tell clients to avoid PBN's, there is some wiggle room here as the execution gets more and more advanced, and if well-maintained, there are some decent PBN's out there which are still worth their money.
How to hire a reputable link building agency using modern tactics, and growing your business
So how can you know when an SEO or marketing agency is legit? Answering that in simple terms isn't easy and comes down to you as it is ultimately your responsibility in knowing the type of person or company you want to work with.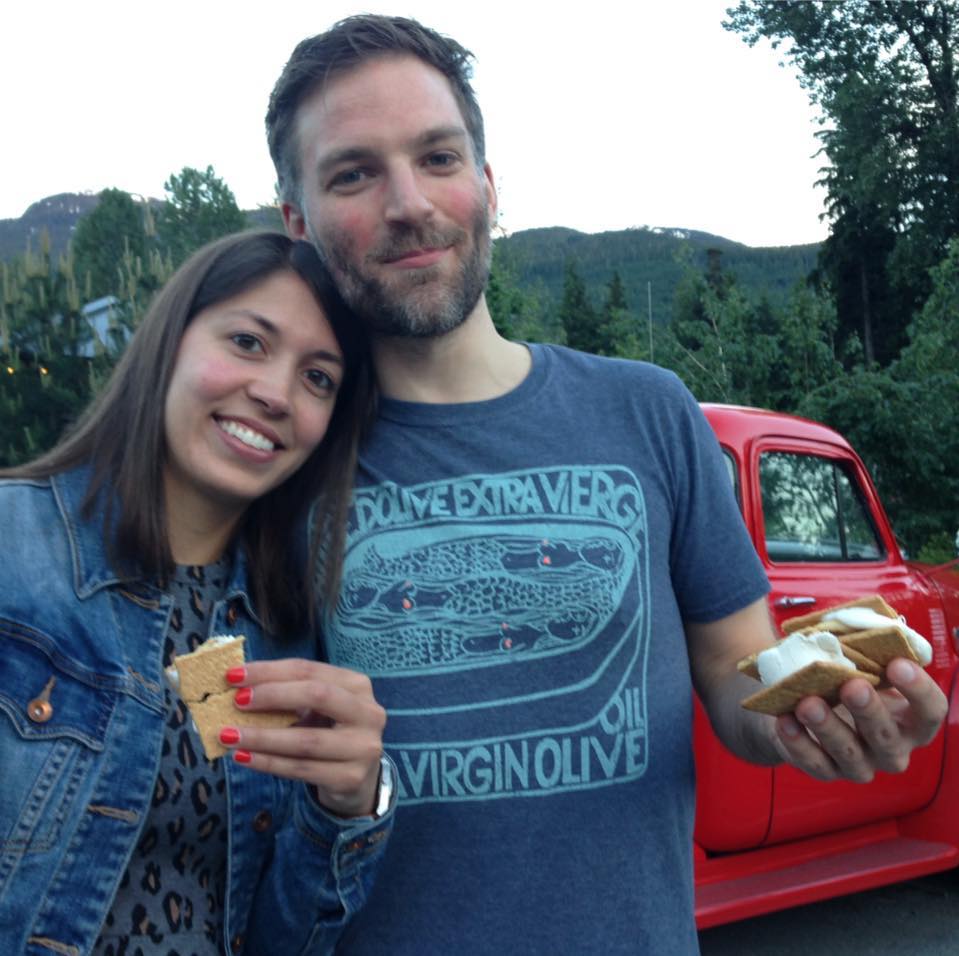 One indicator I look for is an agency which prides itself in hard work. Do they talk about their processes? Do they go into detail in what they do? Is it laid out in clear terms you can understand?
Another indicator is whether or not they are an agency with some local workers, or full time staff. Fly by night SEO agencies don't have employees. That's not to say that all reputable agencies do have employees, but when you're assessing the situation, it's something to think about.
Do they emphasize 'high quality' links and link building, or are they advertising a quantity of links? Marketing on quantity of links should be a red flag when it comes to link building to your site. (Editors note: There are other cases where building a high quantity of low quality links might make more sense, but that's a topic for another discussion)
Do they offer empathetic answers to questions about the safety of your website? Does it sounds like they care? We're not talking about what they're saying, but what they're conveying with what they're saying.
Does it sound to you like they are looking out for your best interests, almost as if they are an employee of yours?
Another positive indicator to look for is whether or not they give you a realistic timeframe in which you can expect results. While this may sound counter-intuitive at first, you want a longer timeframe. Understand that SEO takes time. Someone who's marketing themselves as competing on the idea of how fast they can get results will invariably be cutting corners in the name of speeding up results. (And maybe they can get instant results… Blackhat tactics are used because they work, after all! The question is, for how long?)
Do they guarantee results? If so, that's a huge red flag.
Search engine optimization takes time (think five to six months before you see an uptick in activity), and there is no one on the face of the planet that understands Google's algorithm top-to-bottom. It's fine to understand the game, and guarantee that over time you will get results, but you should never be promised search engine rankings, or guaranteed to rank #1 in Google. SEO simply doesn't work like that.
Similarly to the above, look for agencies that ask you to commit some time to partnering with them. Since you know the results of an SEO campaign often don't arrive for 4–6 months months, an agency guaranteeing rankings in the first 60 days is invariable going to be using some shortcuts to artificially inflate your importance to Google.
Remember Sir Isaac Newton's famous quote, "what goes up, must come down." In other words, avoid cutting corners like the plague, they almost always come back to haunt you.
Don't think of SEO as a quick fix you spend a few hundred on to rank yourself #1 for XYZ keyword, instead you want to set aside an annual budget which allows Google to see your site growing and your sales increasing steadily, month after month, year after year.
That's modern link building at it's finest, and it's how dynasties are built online. If you're interested, check out how we do things here at the office.